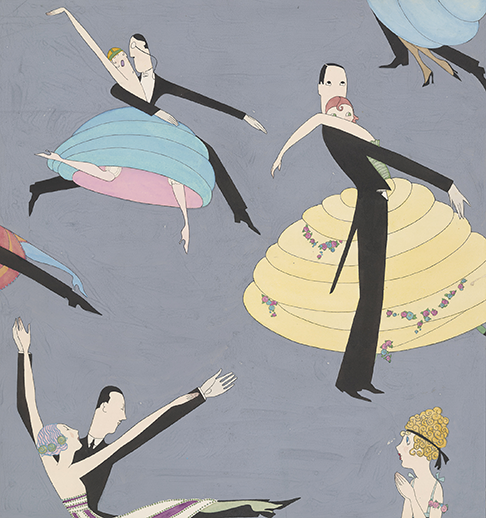 Courtesy of the Library of Congress
WASHINGTON, DC -  Original works by women cartoonists and illustrators are featured in a new exhibition opening at the Library of Congress on Nov. 18. Spanning the late 1800s to the present, "Drawn to Purpose: American Women Illustrators and Cartoonists" brings to light remarkable but little-known contributions made by North American women to these art forms.
In fields traditionally dominated by men, many women have long earned their livelihoods creating art intended for reproduction and wide dissemination in newspapers, periodicals and books. Women pursuing careers in the early days of the visual arts, as in nearly every other profession, encountered limitations in training, permitted subject matter and adequate work environments. A host of challenges and longstanding social restrictions in a traditionally male-controlled system impeded many from advancing in their chosen fields.
The selected works drawn from the Library's extensive collections highlight the gradual broadening in both the private and public spheres of women's roles and interests, addressing such themes as evolving ideals of feminine beauty, new opportunities emerging for women in society, changes in gender relations and issues of human welfare. "Drawn to Purpose" demonstrates that women, once constrained by social conditions and convention, have gained immense new opportunities for self-expression and discovery to share with growing, appreciative audiences.
The exhibition will feature nearly 70 works by 43 artists in two rotations during its run from Nov. 18, 2017, through Oct. 20, 2018,in the Graphic Arts Galleries of the Library's Thomas Jefferson Building, 10 First St. S.E., Washington, D.C. The exhibition will be free and open to the public Monday through Saturday, 8:30 a.m. to 4:30 p.m. Tickets are not needed.
The exhibition is made possible by the Swann Foundation for Caricature and Cartoon. An online version will be available to audiences nationwide at loc.gov on Nov. 18.
"Drawn to Purpose" is organized into seven sections: Themes and Genres; Golden Age Illustrators; Early Comics; New Voices, New Narratives; Editorial Illustrators; Magazine Covers and Cartoons; and Political Cartoonists.
Among the artists and works featured are Grace Drayton's wide-eyed, red-cheeked Campbell Kids, who debuted in 1909; Lynn Johnston's comic strip "For Better or For Worse"; Persian Gulf War editorial illustrations by Sue Coe and Frances Jetter; "Mixed Marriage" by New Yorker cartoonist Roz Chast; and work by best-selling graphic novelist Raina Telgemeier.
The Library will release a companion book, "Drawn to Purpose: American Women Illustrators and Cartoonists" by curator Martha H. Kennedy, in the spring of 2018. Featuring more than 240 eye-catching illustrations from Library collections, "Drawn to Purpose" provides additional insights into the personal and professional experiences of more than 80 artists. Their individual stories—shaped by their access to art training, the impact of family on their careers and experiences of gender bias in the marketplace—serve as vivid reminders of the human dimensions of social change during a period in which the roles and interests of women spread from the private to the public sphere. The hardcover volume is published in association with University of Mississippi Press and will be available for $50 in the Library of Congress shop, 10 First St. S.E., Washington, D.C. Credit card orders are taken at (888) 682-3557 or loc.gov/shop/ and bookstores nationwide.
The Library of Congress is the world's largest library, offering access to the creative record of the United States—and extensive materials from around the world—both on-site and online. It is the main research arm of the U.S. Congress and the home of the U.S. Copyright Office. Explore collections, reference services and other programs and plan a visit at loc.gov; access the official site for U.S. federal legislative information at congress.gov; and register creative works of authorship at copyright.gov.