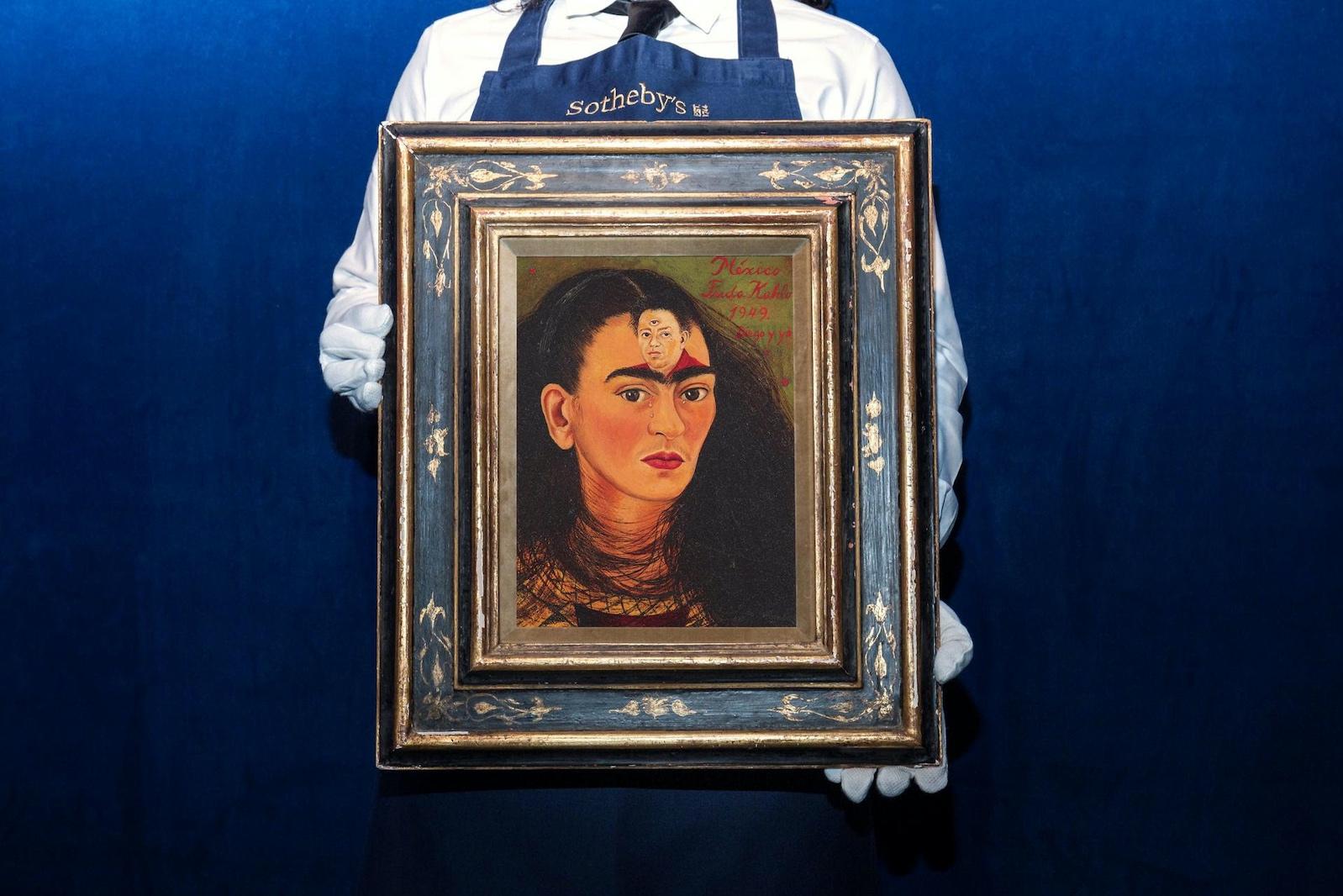 Courtesy Sotheby's.
NEW YORK – This November, Sotheby's will present Frida Kahlo's 1949 self-portrait, Diego y yo (Diego and I), the final, fully realized 'bust' self-portrait completed before her death in 1954. Offered as a star lot in the Modern Evening Sale in New York, this historic work carries an estimate in excess of $30 million.
Diego y yo is a quintessential example of Frida Kahlo's singular approach to portraiture. Intense and emotional, this important work by the beloved and renowned artist is poised to shatter her current auction record of $8 million achieved in 2016 and may become the most valuable work of Latin American art ever sold at auction. The Modern Evening Sale, formerly the Impressionist & Modern Art Evening Sale, will inaugurate a larger reorganization of Sotheby's General Fine Art evening sale categories taking effect this November in New York. (More details to be announced at a later date.) Diego y yo will be on public view 7 - 11 October in Hong Kong and 22 – 25 October in London before returning to New York for exhibition before the November sale.
Brooke Lampley, Sotheby's Chairman and Worldwide Head of Sales for Global Fine Art, remarked: "Frida Kahlo's emotionally bare and complex portrait Diego y yo is a defining work by one of the few artists whose influence transcends the world of fine art to pop culture and beyond. To offer this portrait in our Modern Evening Sale in November heralds the recent expansion of the Modern category to include greater representation of underrepresented artists, notably women artists, and rethink how they have historically been valued at auction."
Julian Dawes, Sotheby's Co-Head of Impressionist & Modern Art in New York, said: "A painting by Kahlo of this quality and excellence is a rarity at auction. When I look at this painting, the phrase "abre los ojos," Spanish for "open your eyes," immediately comes to mind. In the literal sense, it refers to the penetrating stare of Kahlo as the sitter of the portrait (and the double portrait of Rivera), but I think it also symbolizes the incredible moment this painting will surely usher in for Kahlo, as the market opens its eyes to Kahlo in a new way and secures her place in the auction echelon she belongs."
Anna Di Stasi, Sotheby's Director of Latin American Art, commented: "Frida Kahlo is a global icon of modern art whose work is beloved around the world. Diego y yo, epitomizes the painstakingly detailed rendering, complex iconography, and deeply personal narratives that are hallmarks of her mature painting.
On offer at auction for the first time in more than 30 years, Frida Kahlo's Diego y yo (Diego and I) (estimate in excess of $30 million) will be a star highlight of Sotheby's Modern Evening Sale this November in New York. The sale will again be a watershed moment for Kahlo and Latin American artists, as it was when the painting last sold at Sotheby's in 1990 achieving $1.4 million and making Kahlo the first Latin American artist to achieve more than $1 million at auction. This November, Diego y yo is poised to not only set a new auction record for the artist but also become the most valuable Latin American artwork ever sold at auction.
Completed in 1949, Diego y yo is Kahlo's final self-portrait of the 1940s. Kahlo painted 'bust' self-portraits throughout her career with the finest examples created in this decade. They are among her most famous, coveted and emblematic works.  Following her second marriage to famed Mexican muralist Diego Rivera, the relentlessly curious Kahlo during this period synthesized incredibly diverse influences ranging from Aztec and Eastern mythology to medicine and botany. She also depicted her tumultuous experiences with chronic illness and her increasingly complicated relationship with Rivera to build a rich, deeply personal iconography. She reached the apex of her technical mastery as a painter during this time.  In paintings like Diego y yo, Kahlo engages explicitly with the tradition of 'bust' self-portraiture first popularized during the European Renaissance, applying the motifs and techniques of Renaissance portraiture to assert her work in dialogue with canonical masters such as Albrecht Durer. These lushly detailed, expressive self-portraits also dramatically explore contemporary themes of identity and experience, the power of the gaze, ownership of one's image, and one's sense of self.
Depicting a distraught Kahlo in an intimate and closely cropped composition, Diego y yo showcases Kahlo wearing a now-iconic huipil, the blouse belonging to the traditional dress of the women of the Isthmus of Tehuantepec (Tehuanas). This particular red huipil is a particularly famous one from her extensive collection; she wears it in many of her most recognizable self-portraits of this period, and in a well-known series of photographs by Nickolas Muray.
Diego y yo can also be considered a double portrait. Kahlo includes a small image of Rivera in the center of her forehead, bearing a third eye to symbolize the degree to which he occupied her consciousness. This charged and emotionally resonant work alludes to Rivera's relationship with the Mexican diva María Félix, of whom the muralist painted a sensual portrait also in 1949. This relationship was the subject of numerous rumors, and although she joked about it publicly, Kahlo, who was a good friend of Félix, was deeply wounded. One of two paintings in which she explores the motif of the double portrait, Diego y yo is the most vulnerable and moving of the pair. Here, her loose hair (usually tightly laced in braids) almost seems to strangle her; she has flushed cheeks, and an intense, tearful gaze. Her work is celebrated for this raw emotive power and the painting captures an inner restlessness and distress, poignantly reflected in three tears flowing from her eyes, evocative of Madonna of the Sorrows, an iconic image in Western art history. Encompassing so much more than her own personal story, and engaging with existential questions around life, death, and love, Diego y yo speaks to the universal appeal of her work as one of the true titans of 20th-century art.