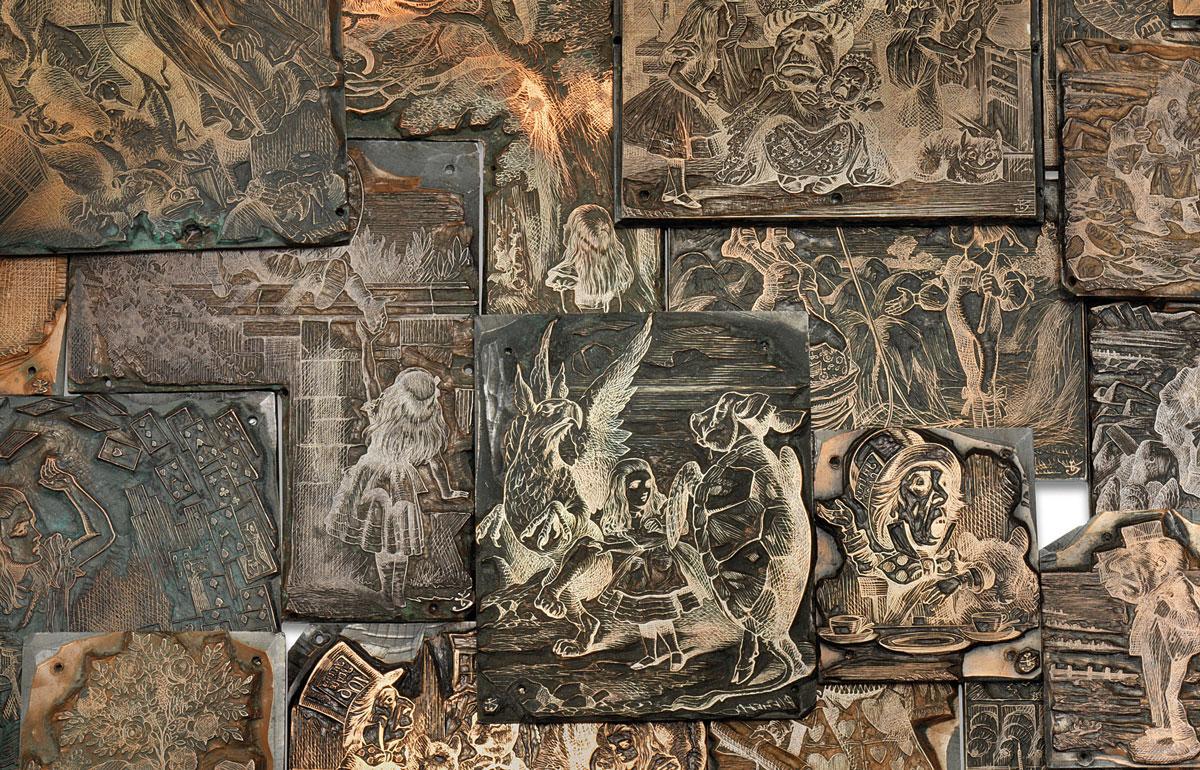 Courtesy of Christie's.
John Tenniel judged the images produced from electrotype printing plates of his illustrations for Alice's Adventures in Wonderland to be so poorly rendered that he convinced the book's author, Lewis Carroll, to recall entire first edition. Carroll's diary entry for July 20, 1865 states as much: "Called on [publisher] Macmillan, and showed him Tenniel's letter about the fairy-tale -- he is entirely dissatisfied with the printing of the pictures, and I suppose we shall have to do it all again." (R.L. Green, ed., The Diaries (London: 1953), p.234). As a result, only twenty copies of that first edition are known to remain in existence, making it something of a black tulip among collectors. Now, the original printing blocks are heading to auction on December 1 at Christie's London with pre-sale estimates of $43,000-56,000.
Of the forty-nine copper-plated lead printing blocks, thirty-eight were created for Alice's Adventures in Wonderland (1865), and eleven for the first edition of Through Looking Glass (1871). The plates last appeared at auction at Christie's in November 2001, when they sold for £30,550 ($43,259) from the estate of Donald William Barber, a former employee of R. Clay, Son, and Taylor, the printers who handled the second first published edition after The Clarendon Press production was deemed unacceptable. 
In 1865, electrotyping was a relatively new method of duplicating printing forms--the process had only been invented twenty-seven years earlier--but had already become the new standard for creating exact copies of a master image. Electrotype blocks are created by pressing a waxy mold into an original piece of type (or illustrated block), after which the mold is dusted with graphite and bathed in a copper-sulfite solution. An electric charge is applied, and the chemical reaction creates a copper wall on the mold. Once removed from the mold, the copper block is ready to be pressed into service. The process yields long-lasting, reusable plates suitable for large print runs. (The Met filmed an informative video explaining the process.)
Tenniel's exacting standards were finally met, and in a November 1865 journal entry Carroll enthused that the new impression was "far superior to the old, and in fact a perfect piece of artistic printing." (R.L. Green, ed., op. cit., p. 236). See the difference between the suppressed first edition and fine press reprints here.