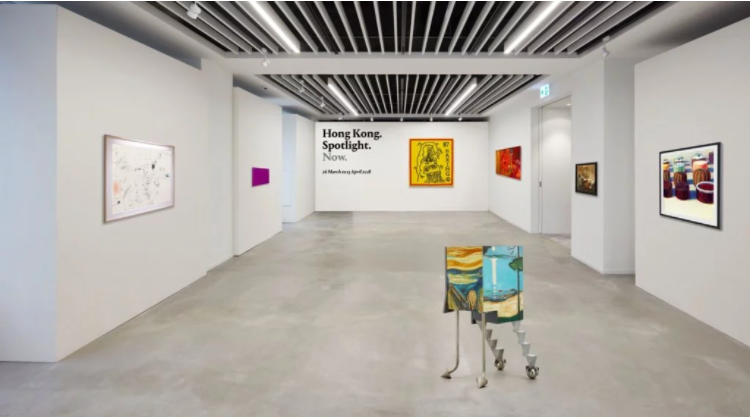 Courtesy Phillips
Phillips To Launch Its First Gallery Space In Asia
A Testament to Its Commitment to the Region

Inaugural Exhibition Hong Kong. Spotlight. Now. to Open on 26 March, 2018
A Cross-Category Selling Exhibition Featuring International Contemporary Artists Alongside Exceptional Works of Design, Photographs, Watches and Jewels 

HONG KONG – Phillips is delighted to announce that its first gallery space in Asia will be open on 26 March 2018, located in the prestigious St George's Building in Central, Hong Kong, where its Asia Headquarters has recently relocated. Comprising the whole of the 14th floor, this entire facility is a testament to Phillips' commitment to Asia, responding to the robust expansion in the region since its inaugural Hong Kong sale in November 2015. The state-of-the-art gallery space will be yet another distinctive, contemporary destination for global art enthusiasts developed by Phillips alongside the company's major centres in London and New York. It will regularly host exhibitions, auction previews, private sales, cultural programmes and other special events, enabling more frequent interactions with clients and partners.

To celebrate the opening of Phillips' new Asia Headquarters, a cross-category selling exhibition, Hong Kong. Spotlight. Now., will be held from 26 March to 13 April, 2018, featuring international artists such as Yayoi Kusama, Marc Chagall, Keith Haring and Peter Doig alongside exceptional works of design, photographs, watches and jewels.  Coinciding with an exciting line-up of art and cultural events across Hong Kong, the exhibition will be the first of its kind for Phillips in the territory and represents a commitment to showcasing international art and objects of the highest quality in Asia. Highlights from our upcoming Geneva and Hong Kong watch auctions will also be on view at the same time. 

"Strengthening and expanding Phillips' presence in Asia has always been a foremost priority," said Edward Dolman, Chief Executive Officer, Phillips.  "Phillips' consistent trajectory of growth in Asia since our inaugural sale in Hong Kong in 2015 consolidates our position as a key player in this important and dynamic market in just less than three years.  The expanded headquarters in Hong Kong is an important addition to our business, along with our headquarters in London and New York.  Such exponential growth reflects the continued increase in demand and appreciation for art and culture across the region, affording Phillips the opportunity to further invest in our business here."

Lilly Chan, Managing Director, Asia, Phillips, continued: "With the additional gallery space in Hong Kong, we are excited to be able to bring a series of exhibitions and previews outside of the traditional auction schedule, while hosting and supporting pre-eminent, high-profile events with a sole focus on the 20th and 21st centuries, responding to the ever-evolving collecting tastes across the region.  We look forward to welcoming all members of the Asia art community to this exquisite facility."

Phillips' total sales in Asia increased 13% from 2016 to 2017 as Phillips saw an increase in client activity in the region. The company continued to grow its client base in Asia as 43% of buyers in its November 2017 Hong Kong auctions transacted with the company for the first time.  Since 2015, the number of Asian buyers in Phillips' auctions around the world increased by 133%.