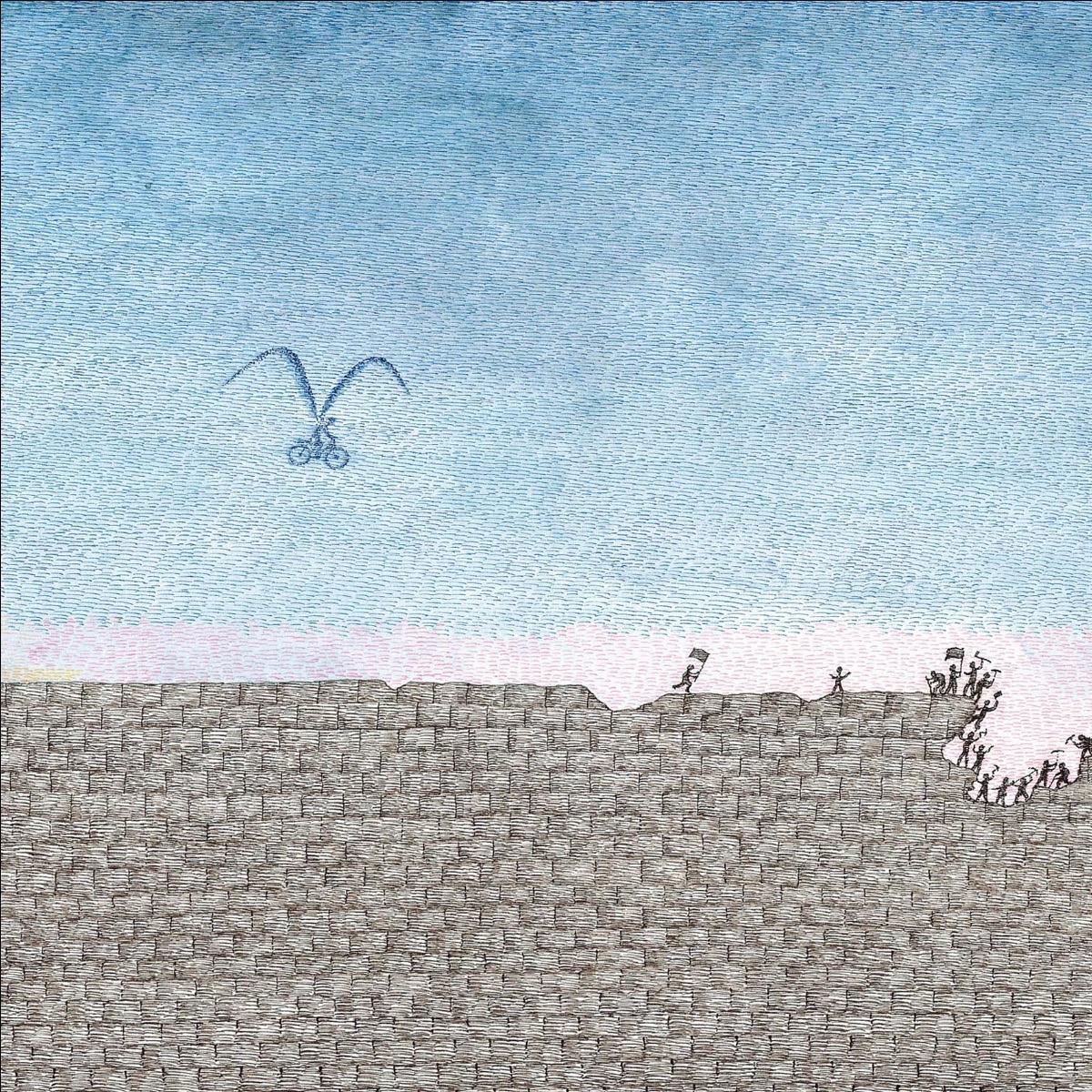 NEW YORK — Czech Center New York presents Peter Sís—The Wall, a documentary exhibition by the internationally acclaimed illustrator, author, and filmmaker. Curated by Joachim Dvořák and Michaela Šilpochová, the exhibition is based on Sís's award-winning autobiographical picture book "The Wall: Growing Up Behind the Iron Curtain."
On view September 16 - November 19, 2021, Peter Sís—The Wall will showcase a series of original illustrations from the book and a documentary installation featuring drawings, photographs, and objects made by Sís as well as objects and ephemera from the period of 1950s-1980s. Presented on replicas of red street noticeboards, which were used for propaganda of the communist regime, the installation creates a powerful account of the artist's experience in Cold War-era Prague. The exhibition is organized by the Czech Center New York and produced by the Labyrint Publishing House in collaboration with the DOX Centre for Contemporary Art and Czech Centres.
Considered Sís's most ambitious and personal book, "The Wall: Growing Up Behind the Iron Curtain" is a 2007 New York Times Book Review Best Illustrated Book of the Year, a 2009 Caldecott Honor Book, a 2008 Bank Street – Best Children's Book of the Year, the winner of the 2008 Boston Globe-Horn Book Award for nonfiction, and a nominee for the 2008 Eisner Award for Best Publication for Kids. 
"Many of Peter Sís's readers were not yet born when 'the wall came down'. His brilliant autobiographical picture-book deserves to become a minor classic, keeping in the collective memory a shameful period of history which must never be forgotten." — Sir Tom Stoppard, British playwright, and screenwriter
"Peter Sís's book is most of all about the will to live one's life in freedom and should be required reading for all those who take their freedom for granted." — Václav Havel, former president of the Czech Republic
Masks and proof of vaccination are required to enter the venue. Photo ID will be checked.
PETER SÍS is an internationally renowned writer of children's books, illustrator, graphic artist, and a creator of animated films. He was born in 1949 in Brno and grew up in Prague. He studied painting and filmmaking at the Academy of Applied Arts in Prague and the Royal College of Art in London. He went to America in 1982, where he started illustrating for periodicals like The New York Times and soon began writing books. 
 
Sís has received numerous awards for his work all over the world — from the Golden Bear at the Film Festival in Berlin to several medals from the American Library Association (three-time Caldecott Honor winner). He is an eight-time winner of The New York Times Book Review Best Illustrated Book of the Year. He has got two Ragazzi Awards from the Bologna Children's Book Fair. Peter Sís was the first children's book artist to be named a MacArthur Fellow and in 2012 he won the Hans Christian Andersen Award for his lifetime work. His animated work is in the permanent collection of the Museum of Modern Art. His artwork can also be found in public spaces, from a mosaic in the New York underground to giant tapestries at Prague, Dublin, and Cape Town airports. Sís lives in New York City area with his family. 
 
THE CZECH CENTER'S mission is to actively promote the Czech Republic by showcasing Czech culture, innovations, and creativity in the US. Its program covers visual and performing arts, film, literature, music, architecture, design and fashion, science and social innovations. As well as hosting its own events, the Czech Center offers support for other groups organizing interculture initiatives among Czech and US partners.
 
The Czech Center also seeks to further enhance cultural relationships between the US and the Czech Republic through curatorial visits, media tours, and artistic residencies; helping to generate creative dialogue among artists, scholars, scientists, and cultural activists from both countries. The Center promotes instruction of Czech language and provides series of Czech language courses.