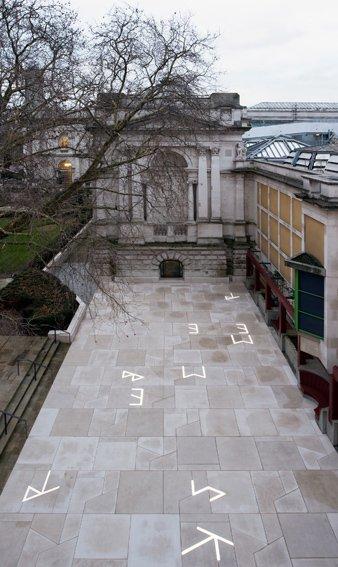 Photo: © Tate (Joe Humphrys)
Turner Prize winning artist Martin Boyce has been commissioned to create a new installation outside Tate Britain. The new work, unveiled today, was commissioned with the support of the Clore Duffield Foundation. It consists of a new paved terrace into which the words 'Remembered Skies' have been spelled out in illuminated letters, situated between the Clore Gallery – the home of JMW Turner's paintings – and the Clore Centre for school visits to Tate Britain.
Martin Boyce is best known for his atmospheric installations recalling archetypal 20th century landscapes, such as the urban park, the abandoned garden and the corporate lobby, as well as modernist interior motifs and objects like fireplaces and lamps. Many of his works incorporate text, written in an angular typeface developed from a repeat pattern designed by the artist and based on the geometric shape of four concrete trees created by the modernist sculptors Jan and Joe Martel in 1925.
For his new work at Tate Britain, Boyce has developed a 'fractured' version of this repeat pattern to produce a new terrace outside the Clore Gallery. The spaces between the custom cast concrete paving give way to illuminated letters. With some letters orientated upside down and on their side, the constellation of tumbling shapes deliberately slows down the act of reading, requiring the viewer to piece together the phrase 'Remembered Skies' by walking across the work and seeing it from different angles.
The texts and phrases that Boyce has used in his work over the years come from a wide variety of sources. Some are found in literature, others written by the artist himself while others might be overheard or misread then altered and rewritten.
Talking about the development of this new commission, Martin Boyce said: 'The phrase Remembered Skies came about through Turner's paintings. While watching a documentary on Turner the question of composition was raised and how Turner would at times construct his compositions by moving mountains, repositioning trees and the framing of buildings. For his skies the constant changing conditions of clouds and light would necessitate a composite of the seen, imagined and remembered'.
Alex Farquharson, Director of Tate Britain, said: 'This beautiful intervention by Martin Boyce joins the many other works currently incorporated into Tate Britain's building, from the Rex Whistler mural in our restaurant to the handmade glass window designed by Richard Wright. Martin's installation of glowing geometric letters and shaped pieces of paving is sculpture in the form of architecture. Combining references to Turner's landscapes and mid-20th century art and design, it will quietly transform the terrace outside the Clore Gallery.'
Tate Britain's Clore Gallery is home to the world's largest collection of JMW Turner's work, including a large-scale free display of over 100 paintings, as well as thousands of sketches and watercolours accessible to the public in the Prints and Drawings Room.