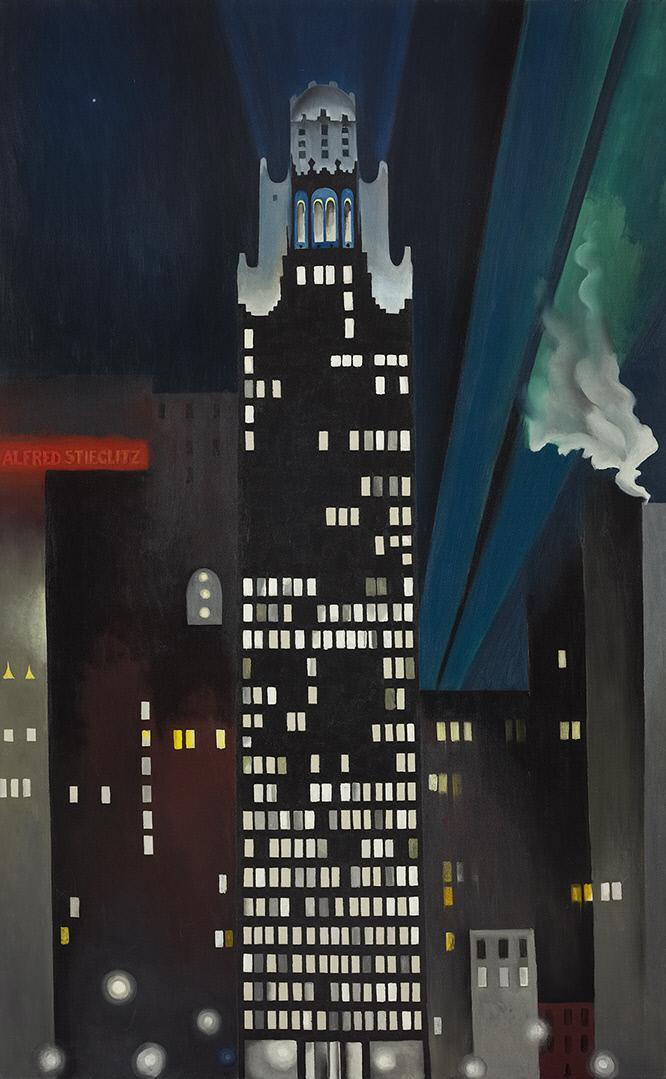 Courtesy Crystal Bridges Museum of American Art
Crystal Bridges Museum of American Art presents the debut of The Beyond: Georgia O'Keeffe and Contemporary Art on view May 26 through September 3, 2018. Tickets are available here, $10 or free for members and youth ages 18 and younger.
Created by Crystal Bridges, The Beyond brings together sculptures, murals, photographs, paintings, and more by Georgia O'Keeffe and 20 contemporary artists working in similar themes. Building on works from the museum's collection and borrowing from public and private collections, the exhibition features 36 O'Keeffe works spanning her career. Works include Radiator Building—Night, New York (1927), Jimson Weed/White Flower No. 1(1932), Flying Backbone (1944), and a 1972 painting The Beyond, which inspired the exhibition's title and was one of the last works she completed unassisted as her eyesight began to fail. Abstraction (modeled 1946, cast ca. 1979-1980), one of the few sculptures O'Keeffe created, will be on view, as well as several of her sketchbooks for the first time.
"Crystal Bridges is excited to present this extraordinary blend of iconic, rare, and contemporary works in one exhibition," said Rod Bigelow, Crystal Bridges Executive Director and Chief Diversity & Inclusion Officer. "The Beyond was organized by Crystal Bridges and will debut here before it travels the country, sharing the legacy of O'Keeffe while introducing visitors to the next generation of artists exploring the unfolding American story."
Georgia O'Keeffe (1887-1986), is often called the mother of American Modernism. She has created some of the most enduring art of twentieth century with images ofenormous flowers, luscious colors, landscapes, feminine forms, and still lifes. The same elements that make O'Keeffe's works recognizable have inspired artists for generations. The exhibition introduces viewers to the following contemporary artists whoevoke, investigate, and expand upon O'Keeffe's artistic legacy:
Negar Ahkami, Milano Chow, Cynthia Daignault, Sharona Eliassaf, Monica Kim Garza, Loie Hollowell, Pearl C. Hsiung, Louise Jones, Kim Keever, Molly Larkey, Caroline Larsen, Mark Lewis, Wardell Milan, Jennifer Packer, Dylan Gebbia-Richards, Andy Robert, Matthew Ronay, Tschabalala Self, Anna Valdez and Britny Wainwright.
 "O'Keeffe is a touchstone of Modern art," said Crystal Bridges Curator, Contemporary Art, Lauren Haynes. "We hope visitors will walk away from The Beyond with a broader understanding of her diverse body of work, and we encourage visitors to discover new artists who are working today, in their own unique artistic language, expanding upon O'Keeffe's exploration of these particular themes."
Throughout the galleries, O'Keeffe's pioneering works will be interspersed among the contemporary works in six themed sections: Flowers, Finding the Figure, The Intangible Thing, Still Lifes, Cities & Deserts, and The Beyond. This combined presentation offers moments of connection and conversation.
O'Keeffe may be best known for her flower paintings, which she began painting in 1924 as a response to modern architecture and the Machine Age. The flower section includes works by artists responding to subjects ranging from police violence to the contemporary economy. Visitors to the exhibition will be greeted by a 30-foot-tall floral mural created by Detroit artist, Louise Jones in the corridor outside the exhibition. Jones' approach to painting stems from her interest in exploring femininity, and serves as a means to explore shape and color. Prior to painting the site-specific mural, she spent time with local experts to learn about the native plants and flora of the Ozarks, which inspired Picked from the Garden of Celestial Delights, (2018). The plants depicted in this work include Coral Charm Peony, Butterfly Flowering Dogwood, and Lamb's Ear. In-progress images of the mural can be found here.
Visitors entering the Cities and Deserts section will discover two of O'Keeffe's great subjects: the skyscrapers of New York City and the rolling deserts of New Mexico. In this grouping, contemporary artists demonstrate a similar interest in cityscapes andlandscapes to convey complex meaning and feeling. Like O'Keeffe, Tulsa-based artist Mark Lewis focuses on daily life within the fabric of the city. Lewis's graphite and paper collage streetscape, Peoria Ave. No. 7, (2011) made on-location, captures the energy of his hometown, while Sharona Eliassaf's colorful paintings like Stars to Dust, Dust to Stars (2016) demonstrate a global reach, reflecting the artist's trips between New York City and Israel, which she has been making since childhood. Eliassaf's imagined landscapes blend television gameshows, whose backdrops are instantly recognizable in her work, with the geometric rhythm of city skylines.
Haynes adds, "The pairing of an American icon with a group of 20 contemporary makers who have their own diverse set of practices and life experiences, opens up new conversations and possibilities, encouraging visitors to look closely. Eleven of the artists from The Beyond will be leading talks and workshops at the museum, giving visitors a rare chance to hear directly from them for a deeper understanding of the ongoing relevance of O'Keeffe's work and connections between our collective history and our present."
The exhibition will be accompanied by a full roster of programs inspired by The Beyond:
Opening Exhibition Lecture » Curators Chad Alligood & Lauren Haynes, Friday, May 25, 7 to 8 pm
Craft Squared » Mixed Media Mixed Tools with Caroline Larsen, Friday, June 1, 6:30 to 8:30 pm
Summer Camp » Art and Nature (Ages 6-8 and 9-12), Monday, June 11, through Friday, June, 15, 9:30 am to 12 pm
Book Club » How Georgia Became O'Keeffe by Karen Karbo, Wednesday, June 13, 1:30 to 3:30 pm
Summer Camp » Inspiration and Beyond with Crystal Bridges and the Scott Family Amazeum! (Ages 6-8 and 9-12), Monday, June 18, through Friday, June 22, 9:30 am to 3 pm
Craft Squared » Pints, Paper, and Paint with Artist Anna Valdez, Friday, June 29, 6:30 to 8:30 pm
Adult Workshop » Still Life with Artist Anna Valdez, Saturday, June 30, & July 1, 1 to 5 pm
ArtBuzz » How it's Made with Artist Mark Lewis, Thursdays, July 5, 12, and 19, 7 to 8:30 pm
Adult Workshop » Mixed Media Collage with Artist Mark Lewis, Saturday, July 7, 1 to 4 pm
Adult Workshop » Imaginary Species with Artist Matthew Ronay, Wednesday, July 18, 6 to 8:30 pm
Adult Workshop » Botanical Drawing with Louise Jones, Wednesday, July 11, 6:30 to 8:30 pm
Spotlight Talk » Panel Discussion with O'Keeffe Artists Matthew Ronay and Negar Ahkami, Friday, July 20 7 to 8 pm
Adult Workshop » Soft Sculptures with Artist Britny Wainwright, Wednesday, July 25, 6 to 8:30 pm
Craft Squared » Patterns with Britny Wainwright, Friday, July 27, 6:30 to 8:30 pm
Preschool Playdate » Fun in Floral, Thursday, August 9, 11:30 to 2 pm
Spotlight Talk » Panel Discussion with O'Keeffe Artists Tschabalala Self and Molly Larkey, Friday, August 10, 7 to 8 pm
In addition, the museum offers resources designed to provide access to enriching art experiences:
Gallery Interactive– features images of O'Keeffe's fragile figurative works on paper available for visitors to view on an iPad in the Finding the Figure section.
Family Guide- A printed activity guide for all ages for visitors to learn more about and engage with the contemporary artworks in the exhibition. It includes fun facts, artist insights, drawing and writing activities, and more.
Art-Making Activity- an in-gallery sketching station allows visitors to choose among some objects O'Keeffe commonly painted (bones, feathers, flowers, shells, etc.) and create their own O'Keeffe-inspired images.
Beyond-Furniture– in collaboration with the University of Arkansas 3D Advanced Technologies Lab & Vincent Edwards Design, open-source-designed furniture was created for the exhibition space using a The Beyond-specific color scheme. The pieces will be cut and assembled in the University's Design Lab and available for download here.
Video- 360-degree video will feature panoramic views of O'Keeffe's New Mexico home and surrounding landscape. Visitors can use the touch screen to move the image left and right, and up and down, as O'Keeffe talks about the land and her life.
Seating Area– In the last room in the exhibition, the section titled The Beyond, visitors may sit, reflect, and read books on O'Keeffe and contemporary art as they view two works from late in O'Keeffe's career.
Museum Store– a special pop-up store will be located at the end of the exhibition.
Catalog- The Beyond catalog will accompany the show and is available for purchase in the Museum Store.
This exhibition is organized by Crystal Bridges Museum of American Art, and was curated by Lauren Haynes, Curator, Contemporary Art, Crystal Bridges; and Chad Alligood, independent curator.  After the debut at Crystal Bridges, The Beyond will travel to the North Carolina Museum of Art, October 13, 2018 to January 20, 2019, and to the New Britain Museum of American Art, February 22 to June 2, 2019.
Sponsored by Helen Porter, Coca-Cola, Stout Executive Search, Terri and Chuck Erwin, Harriet and Warren Stephens, Stephens Inc., David and Cathy Evans, Blakeman's Fine Jewelry, The Harrison and Rhonda French Family, Charles and Shannon Holley, Morris Foundation, Inc., JT and Imelda Rose, and Jim and Susan von Gremp. To learn more about The Beyond, visit the Crystal Bridges website. For news updates, follow Crystal Bridges on the Blog, Facebook or Twitter #CBbeyond.