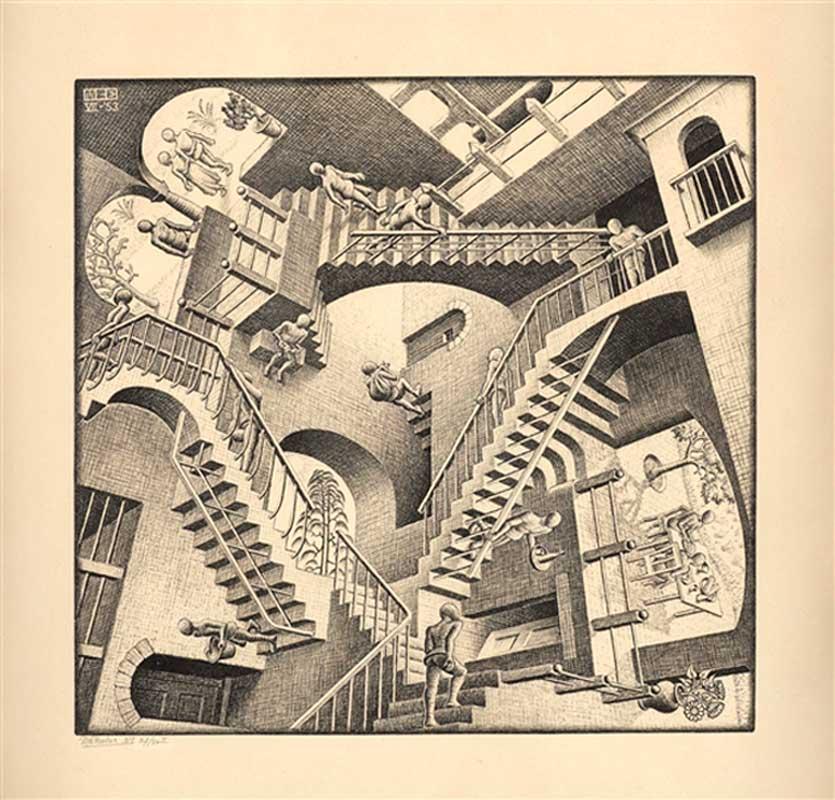 Courtesy Bonhams
New York - The May 22 sale of Modern & Contemporary Prints & Multiples achieved US$1,227,500 and the top lot of the sale was Andy Warhol's Rebel Without a Cause, which realized $125,000. World auction records were achieved for Maurits Cornelis Escher's Relativity and Sky and Water I, as well as Wayne Thiebaud's Country City, 1988.
Deborah Ripley, Director Prints & Multiples, New York, commented: "We saw strong bidding across the board and we are especially pleased with the exceptional results achieved for both rare prints by Maurits Cornelis Escher, which came from a private collection in the mid-west. The impeccable provenance and scarcity certainly captivated Escher collectors."
Relativity, as well as an earlier woodcut Sky and Water I, 1938 come from the collection of Robert and Wilcke Smith. Both commercial artists, they recognized early on the exceptional quality of Escher's graphic works. In June 1959, Robert wrote to Escher in his home in Baarn, Netherlands, to tell him he would be "extremely proud to own" two of Escher's prints, Light and Water I and Relativity. In July 1959, the artist sent Smith a hand-signed letter informing him that each print was $20.00 and he could send Smith the two prints by airmail for an additional charge of $2.00. Copies of this remarkable correspondence are offered with the works, along with Robert Smith's canceled check to the artist for $42.00, initialed in pen by Escher on the back. The prints were displayed in the Smiths' home in Albuquerque, New Mexico until their subsequent deaths (Robert Smith in 2007 and Wilcke Smith in 2015).