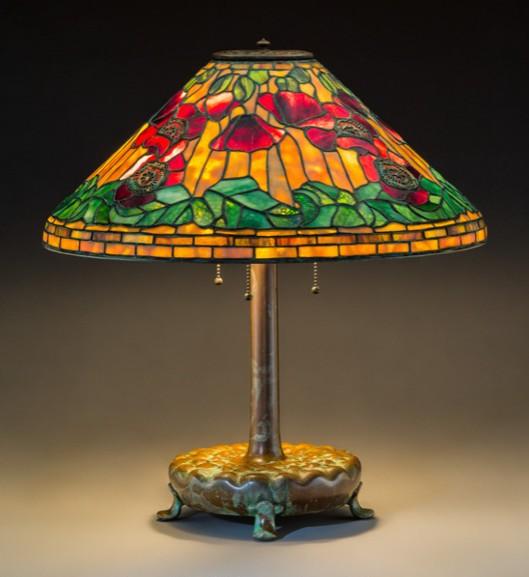 Courtesy Heritage Auctions
DALLAS, Texas (May 7, 2018) — A collection of fresh-to-market lots from old collections will be among the highlights in Heritage Auctions' Tiffany, Lalique & Art Glass including Art Deco & Art Nouveau Auction May 16 in Dallas, Texas.
"Heritage Auctions established a tradition of Spring and Fall auctions in this category a few years ago, and the May 16 auction does not disappoint," Heritage Auctions Vice President of Special Collections Nick Dawes said. "The property in this auction has not seen the market in decades."
A Louisville, Kentucky estate produced five Tiffany lamps, including Tiffany Studios Leaded Glass Red Poppy Bronze Table Lamp (est. $50,000-70,000) and a Tiffany Studios Leaded Glass Banded Poinsettia Bronze Table Lamp (est. $25,000-35,000).
Most of the other Tiffany lamps, including a Tiffany Studios Leaded Glass and Bronze Daffodil Table Lamp (est. $14,000-18,000) and all the floor lamps, came from a Fifth Avenue New York apartment where they had been for close to a century.
Perhaps the most remarkable American collection is the important and highly varied Steuben group, which was curated over several decades by Florida collector Will Smith and consigned from his estate. The collection includes most of Steuben's finest achievements, from a Rare Frederick Carder Steuben Blue Intarsia Glass Goblet (est. $1,000-1,500) to a Steuben Glass and Silver Arctic Fisherman and Ice (Polar) Bear (est. $800-1,200).
The auction also prominently features French glass, including fabulous pate-de-verre lots like Argy-Rousseau Pate-de-Verre Birds of Paradise (Oiseseaux de Paradis) Vase (est. $4,000-6,000), and Daum's Pate-de-Verre Flower and Honeybee Covered Box (est. $1,500-2,000).
A private collection in Florida produced a classic Galle Blow-Out Overlay Glass Cherry Vase (est. $2,000-3,000), as well as a Louis Majorelle Walnut Ombelles Banquette by Camille Gauthier (est. $1,500-2,500) as part of the related Art Nouveau and Art Deco decorative Arts in the auction. 
The work of Rene Lalique and his family is well represented. R. Lalique Light Blue Glass Au Coeur des Calices (Bee) Perfume for Coty (est. $4,000-6,000) is making its first appearance on the market and is one of the finest ever encountered. The estate of beloved New York auctioneer and appraiser Ken Leabman adds fine quality Art Deco ceramics and other decorative arts, including a Jean Luce Black and Gilt Glazed Stoneware Fern Vase (est. $3,000-5,000), which is one of four in the auction by the artist. 
The sale includes more than 100 lots offered at no reserve in an internet-only bidding session. Heritage Auctions is currently seeking consignments for its November 2018 auction of Tiffany, Lalique and Art Glass, with Art Nouveau and Art Deco.