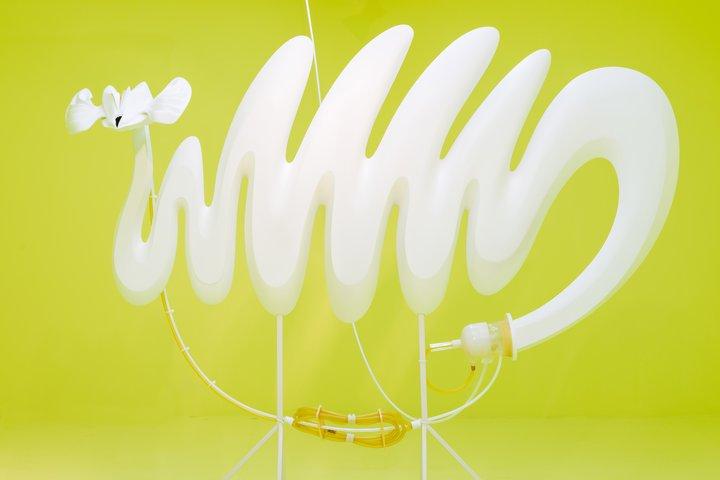 Courtesy the artist and DUVE Berlin, photo credits: Trevor Good
This autumn, Tate Britain will unveil an immersive new installation by Marguerite Humeau (b.1986, Cholet, France). Humeau's practice often takes the form of research-based projects to challenge key issues of the day using complex narratives that synthesise the past with the present. Humeau here blurs the boundaries between research and fiction, science and myth. She creates a uniquely sensory experience using bodily substances, polystyrene sculptures and the recreation of Cleopatra's voice.
Humeau's installation is conceived as a confrontation between life and death, with the gallery transformed into part temple, part laboratory for the industrial production of an elixir for eternal life. At the centre of the space, two semi-abstracted white polystyrene sculptures based on Ancient Egyptian gods, Wadjet (King Cobra) 2015 and Taweret 2015, merge the organic nature of the human body with biological engineering.
Long tubes cut through the space, pumping alligator blood, hormones and other fluids around the installation, accompanied by the synthetic sound of Cleopatra's ethereal voice. The hypnotic yellow environment, devised from poisonous black mamba python venom, evokes Cleopatra's death and acts as a reminder of nature's lethal powers.
Marguerite Humeau lives and works in London. She studied design at the Royal College of Art, graduating in 2011. She has won several international awards which include the British Society of Sculptors Award in 2014 and the Zürich Art Prize in 2017. Her most recent exhibitions include FOXP2 at Palais de Tokyo, Paris in 2016 and at Nottingham Contemporary, in 2016-17 and Riddles at Schinkel Pavillon, Berlin in 2017. Her work has also been shown at institutions such as the Serpentine Gallery, the V&A and MoMA, New York.
Art Now is a series of free exhibitions at Tate Britain focusing on new and recent work by emerging artists. Since the 1990s, Art Now has recognised talent at its outset and provided a launching platform for artists who have gone on to become established figures on the international art scene. The series has recently included Simeon Barclay: The Hero Wears Clay Shoes, Lucy Beech and Edward Thomasson: Together, Rachel Maclean: Wot u :-) about?, Sophie Michael: Trip (the light fantastic) and the group exhibitions Vanilla and Concrete and The Weight of Data.
Art Now: Marguerite Humeau is curated by Elsa Coustou, Assistant Curator, Contemporary British Art.
More information on the installation is available here.