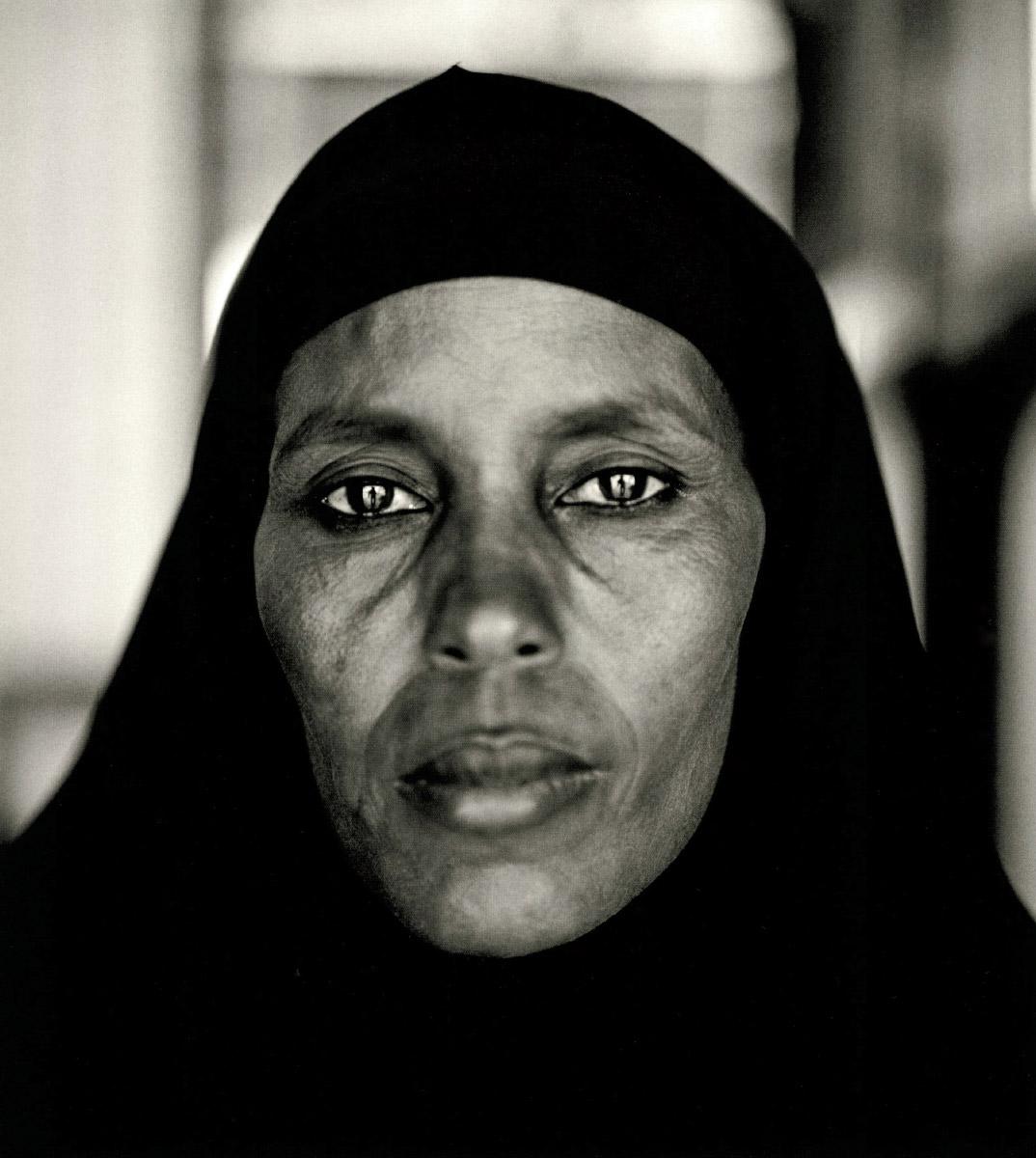 © Fazal Sheikh, Courtesy Portland Museum of Art
Human rights and dignity form the core of Fazal Sheikh's photographs. For more than 25 years, he has worked with individuals rendered invisible by war, ethnic and religious strife, climate crises, and social banishment, inviting them to share their stories of unimaginable hardship and perseverance. Featuring works from eight of his series, Common Ground demonstrates Sheikh's sustained attention to the displaced around the world, and his drive to amplify the voices of the marginalized through his documentary-based photographic practice. Born in New York City in 1965 to an American mother and Kenyan father, Sheikh spent many childhood summers with extended family in Nairobi. After studying photography at Princeton University, he returned to Kenya on a Fulbright scholarship, living for extended periods near refugee camps harboring people displaced from Somalia, Ethiopia, Mozambique, and Rwanda. Unlike most photojournalists who spent less than a day in the camps before photographing their subjects, Sheikh built relationships with the residents over months and, often, years. People posed for his camera as they wished to be portrayed, and the resulting photographs are collaborative works between the artist and sitters. First-person testimonies that accompany the photographs amplify the voices of individuals who advocate for themselves, their families, their communities, and the future.
Many of Sheikh's series are based in the homelands of his paternal ancestors. From 1996 to 1998, he photographed near his grandfather's birthplace in present-day Pakistan. Once Northern India, the borderland region harbored hundreds of thousands of Afghanis displaced by the Soviet invasion of Afghanistan in 1979. For his series The Victor Weeps, Sheikh photographed camp residents and preserved their stories by recording their oral histories. Later, he worked extensively in northern India, documenting the ways that caste systems and gender biases adversely affect women. Moksha features images and stories of the women who live in the holy city of Vrindavan, a sacred site for widows driven from their homes after the deaths of their husbands, while Ladli introduces viewers to girls and young women who experience nearly insurmountable hardship based solely on gender. As with all of his series, Sheikh collaborates carefully with the South Asian men and women he photographs, and their powerful stories become part of his sustained effort to call attention to human rights abuses.
Two series included in Common Ground merge documentary and conceptual photographic practice: Ether, the artist's first series of color photographs, honors the states of sleep and death as in the sacred city of Banares, on the banks of the Ganges River, where many Hindus go to die in the hopes of achieving salvation. Ramadan Moon, featuring a soundtrack of sung prayers, is an immersive work that follows Somali refugee Seynab Azir Wardeere during the holy month of Ramadan. Seeking asylum in the Netherlands, she looks to the night sky in the hopes that the family she left behind in Somalia look at the same stars during their separation.
Sheikh's photographic series have earned him numerous awards and fellowships, including a MacArthur Foundation Fellowship, a National Endowment for the Arts Fellowship, the Henri Cartier-Bresson International Grand Prize and the Luce Humanitarian Award, among many others. To extend the spirit of his work to the Portland metro area, the museum is working with leaders in the community on special programming that will engage the local resettled population and examine the wide-ranging experiences of displaced individuals from around the globe.
Organized by the Denver Art Museum in collaboration with the Portland Art Museum. Curated by Eric Paddock, Curator of Photography, Denver Art Museum. Curated in Portland by Julia Dolan, Ph.D., The Minor White Curator of Photography, Portland Art Museum.