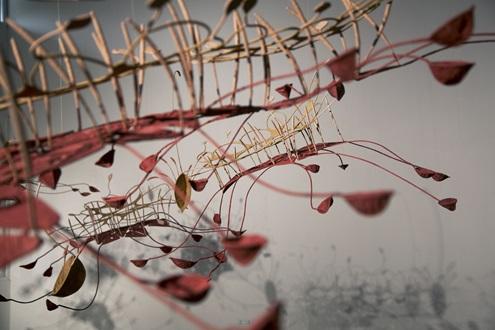 Courtesy Talwar Gallery, New York/New Delhi
Indian sculptor Ranjani Shettar's immersive installation Seven ponds and a few raindrops(2017), a recent gift to The Met from the Tia Collection, will be on view in Gallery 916 at The Met Fifth Avenue from March 12 through August 12, 2018. 
Suspended from the ceiling, Seven ponds and a few raindrops is composed of stainless steel elements that have been molded into a series of sensual, curved, amoeba-like forms covered in tamarind-stained muslin—a technique derived from a craft tradition Shettar observed in the small village of Kinnala, India. The shadows cast by the suspended elements give the viewer a sense of having stumbled upon a hidden-away oasis. 

Born in 1977, Shettar is based in the South India state of Karnataka. The inspiration for her large-scale installation comes from her observations of the now-threatened natural environs of rural India. She combines natural and industrial materials like beeswax, wood, organic dyes, vegetal pastes, lacquer, steel, and cloth in her work. All of the components in Shettar's installations are carefully created and have a deliberately imperfect quality. The hued, rough patinas of the materials emphasize the artisanal nature of her practice, while also acknowledging the lives of the materials themselves. While Shettar's abstract sculptures are resonant with familiar traditions of Western modernist and minimalist sculpture, it is the interplay of techniques and materials, mostly drawn from local sources, that make them distinctive.

Ranjani Shettar: Seven ponds and a few raindrops is organized by Shanay Jhaveri, Assistant Curator of South Asian Art in The Met's Department of Modern and Contemporary Art.