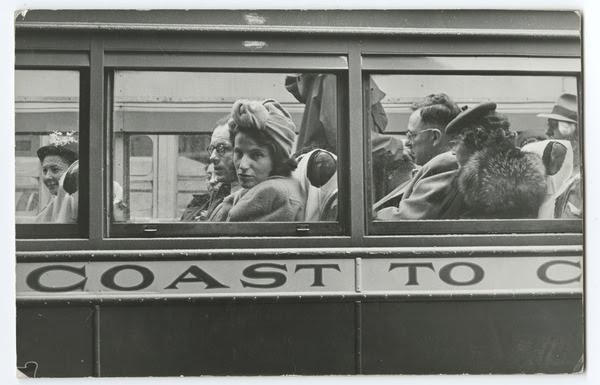 © Estate of Esther Bubley
NEW YORK CITY — Street photography—the thoroughly unpredictable and often magical framing of a moment—was embraced early in the 20th century by women photographers. A new exhibition at Howard Greenberg Gallery will survey more than seven decades of work by 12 women photographers. A Female Gaze will be on view from January 19 through April 2, 2022 in the gallery's new space on the 8th floor of the Fuller Building at 41 East 57th Street.
 
Firmly established in the canon of street photography, the artists in the exhibition—including Berenice Abbott, Diane Arbus, Jodi Bieber, Esther Bubley, Rebecca Lepkoff, Helen Levitt, Vivian Maier, Mary Ellen Mark, Frances McLaughlin-Gill, Lisette Model, Barbara Morgan, and Ruth Orkin—are known for remarkable and iconic images.
 
The forty-nine photographs in A Female Gaze span the 20th century:  from the 1930s with Abbott's documentation of New York City to images from Jodi Bieber's ten-year project (1994 to 2004) focused on youth living on the fringes of South African society. These women not only transcribed history by taking ownership of their environments, but added their own voices to the narrative of photographic history.
 
The democratic nature of street photography reserved a creative space for female artists to a greater extent than other artistic fields. The Photo League, the New York cooperative active from 1936 to 1951, famously included a significant number of female members such as Berenice Abbott, Rebecca Lepkoff, Lisette Model, Ruth Orkin, and Barbara Morgan. These women not only held leadership positions but were encouraged equally alongside their male counterparts.
 
Regardless of the subject matter or the awards gained or the techniques implemented, this collective of female street photographers, as Mary Ellen Mark once remarked referring to the nature of her own work, "photograph the world as it is, because nothing is more interesting than reality." These fleeting occurrences, which may have otherwise passed by unacknowledged, are perpetually suspended in time, generating the opportunity for viewers to consider the transitory phenomena of life.
 
Since its inception in New York 40 years ago, Howard Greenberg Gallery has built a vast and ever-changing collection of some of the most important photographs in the medium. The Gallery's collection acts as a living history of photography, offering genres and styles from Pictorialism to Modernism, in addition to contemporary photography and images conceived for industry, advertising, and fashion.
 
Formerly a photographer and founder of The Center for Photography in Woodstock in 1977, Howard Greenberg has been one of a small group of gallerists, curators and historians responsible for the creation and development of the modern market for photography. Howard Greenberg Gallery—founded in 1981 and originally known as Photofind—was the first to consistently exhibit photojournalism and street photography, now accepted as important components of photographic art.