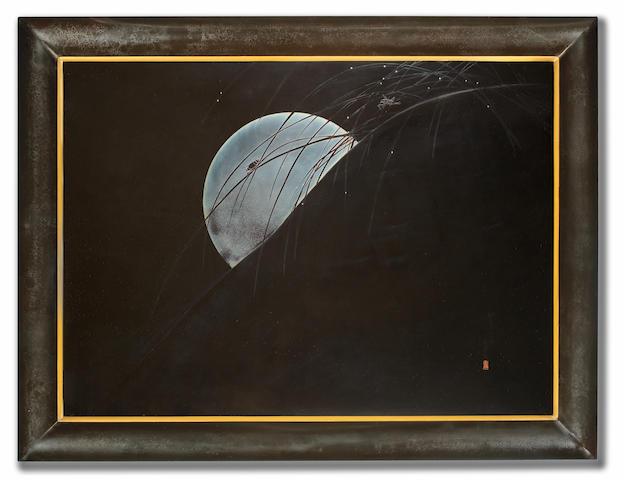 Courtesy Bonham's
BONHAMS WINS PRESTIGIOUS 'ASIAN ART IN LONDON' AWARD FOR OUTSTANDING WORK OF ART
THE MISUMI COLLECTION OF IMPORTANT WORKS OF LACQUER ART AND PAINTINGS
Part III
8 Nov 2017
London, New Bond Street
The international auction house Bonhams has been awarded the prestigious Asian Art in London prize for the outstanding work of art offered by an auction house. It was presented to Suzannah Yip, Director of Bonhams Japanese Department, last night (Thursday 9 November) at a Gala Evening at the British Museum.
The prize-winning object was a beautiful roiro – black lacquer panel – by Shibata Zeshin (1807-91). The panel is decorated with bell crickets on grasses growing on a bank, set against a silver lacquer full moon, and embellished with silver dewdrops.
The award – sponsored by Apollo Magazine and the Antiques Trade Gazette – was judged by museum curators from the Ashmolean Museum, Oxford, Fitzwilliam Museum, Cambridge and Victoria and Albert Museum, London, together with representatives from the sponsors Apollo magazine and Antiques Trade Gazette.
Speaking at the Gala evening held in the British Museum's Joseph E. Hotung Gallery, Bonhams Director of Japanese Art, Suzannah Yip, said, "We are thrilled and proud that this sublimely beautiful lacquer panel by Shibata Zeshin from the world-famous Misumi Collection, has been chosen as the standout work of art featured in Asian Art in London, 2017."
The work which had been estimated at £150,000-200,000 was sold privately, prior to the sale of the Misumi Collection Part III on 8 November, for an undisclosed sum.
SHIBATA ZESHIN 柴田是真 (1807–1891) PANEL WITH BELL CRICKETS, GRASSES, AND FULL MOON 秋の夜(満月芒鈴虫)蒔絵額
Meiji era (1868–1912), 1877
A panel with a highly polished black-lacquer roiro surface worked in relief with the curve of a bank running from top right to bottom left, the moon in silver hiramaki-e merging to silver hirame rising above the bank, curving strands of susuki (plume grass, Miscanthus sinensis) in kuromaki-e (black-on-black maki-e) against the bank and sky, turning to dark brown where they cross the moon, embellished here and there with silver dewdrops, two suzumushi ('bell crickets', Meloimorpha japonicus) on the grasses, in black lacquer takamaki-e, one against the black sky, the other against the moon, all within a removable narrow gold-lacquer border and Western-style frame with curved profile finished in chadō-nuri (a brownish variant of seidō-nuri) perhaps intended to emulate the surface of polished wood.