When the short, dark days of winter send most of us under the covers nursing a hot chocolate or anything with a shot of rum, artists, driven by tenacity and curiosity continue to explore the vagaries of the season reproduced in two or three dimensions. The earliest images of winter were executed in paint on canvas or parchment. Now, contemporary artists may resort to snow and ice as their medium, using the ephemeral qualities inherent of water below 32 degrees to call attention to the pressing issue of climate change. The following ten examples trace the art of winter over time.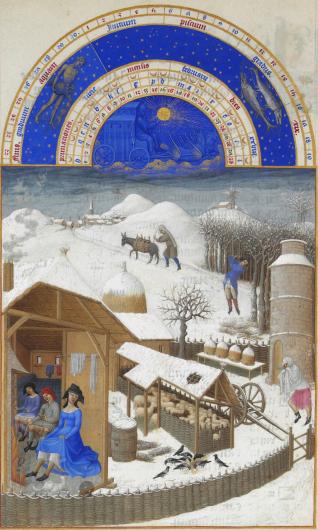 February from the French Gothic manuscript illumination titled Trés Riches Heures du Duc de Berry (1412-16) by the Limbourg Brothers is one of the earliest recorded paintings of a winter scene. It is one image from this book of hours, an illustrated collection of 131 prayers to be said at the canonical hours. Now it can be found in the permanent collection of the Musée Condé, Chantilly, France.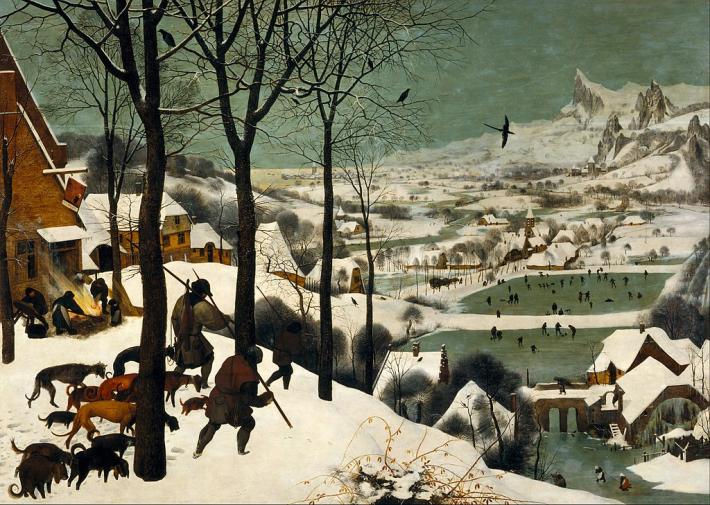 The Hunters in the Snow (1565) by Pieter Bruegel the Elder is part of a cycle of works illustrating the months and the labor associated with the seasons. Often sited as the first nonreligious depiction of a snow scene, this oil on wood panel captures the mood of a group of unsuccessful hunters with their dogs and illuminates many aspects of mid-winter life in a small northern European village.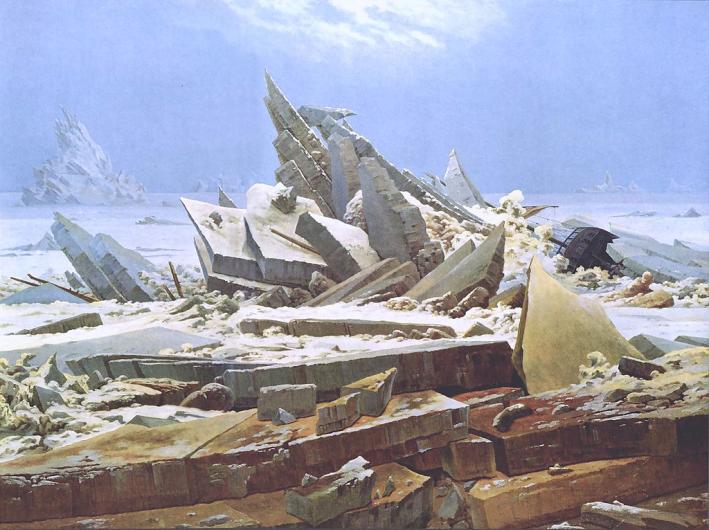 Caspar David Friedrich (1774-1840) was a brooding German landscape painter very popular in his own time. Included in the nineteenth-century Romantic movement, Friedrich revered spirituality embedded in the landscape. His blissful regard of the natural world took a negative turn in one of his most pessimistic works, The Sea Ice, also known as The Wreck of Hope. In the painting, shifting slabs of Arctic ice crush a wooden ship, a metaphor for human helplessness when confronting nature's powerful indifference.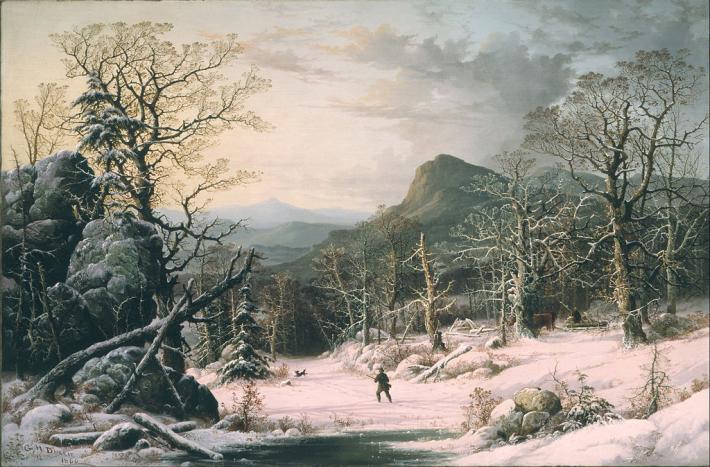 George Henry Durrie (1820-1863) was an American artist whose reputation as a painter of rural winter scenes became entrenched in the nation's sense of its historical past when Currier and Ives reproduced his work in lithographic prints. Hunter in Winter Wood, painted in 1860 near the end of his short life, showcases his command of a limited palette of warm and cool white and gray.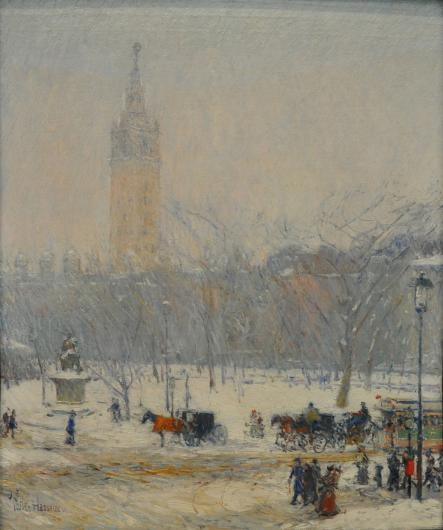 American Impressionist Childe Hassam (1859-1935) juggled his fine art pursuits with commercial work as an engraver for much of his life. Although New England-based he lived in France during his formative years, at one time taking over Renoir's studio. Snowstorm Madison Square (1890), an oil on canvas cityscape, recalls the painterly effects of light in Monet's Rouen Cathedral series created during the same time.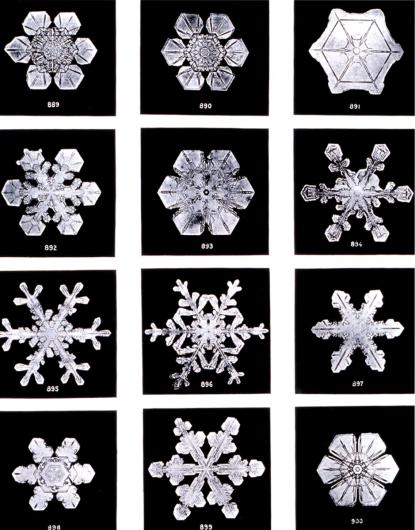 Vermonter Wilson "Snowflake" Bentley (1865-1931) was the first known photographer of snowflakes. Fascinated by snowflakes since childhood, Bentley experimented photographing them on black velvet through a microscope. A collection of Bentley snowflake micrographs from 1902 shows the crystalline structure of a single flake. This unique image, along with over 5,000 others, supported the theory that no two snowflakes are alike.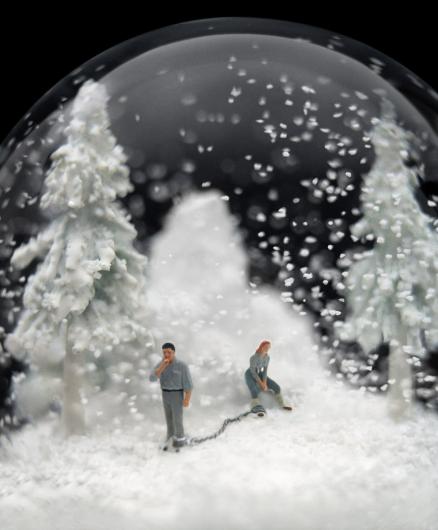 This miniature winter world created inside a snow-globe is the work of artists and life partners, Walter Martin and Paloma Muñoz. In Alone Together (2006), a tiny male and female figure are shackled together in the middle of a snowstorm. Indifferent to their joint dilemma, this work seems to be a metaphor for troubled relationships.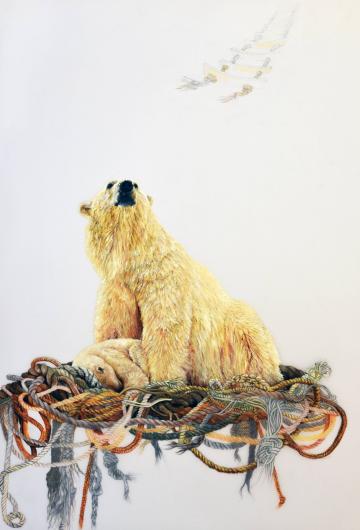 Sally Linder's climate change concerns and compassion for all living things are the driving forces behind her work. The polar bear becomes a poignant, at times, gut-wrenching protagonist, in her series of paintings about the Arctic's receding ice cover. In the mixed media piece Adrift (2015) ice is nowhere to be seen. Stranded on a floating tangled nest of ropes and debris, a female polar bear protects her cub while looking upward towards what appears to be an illusory escape.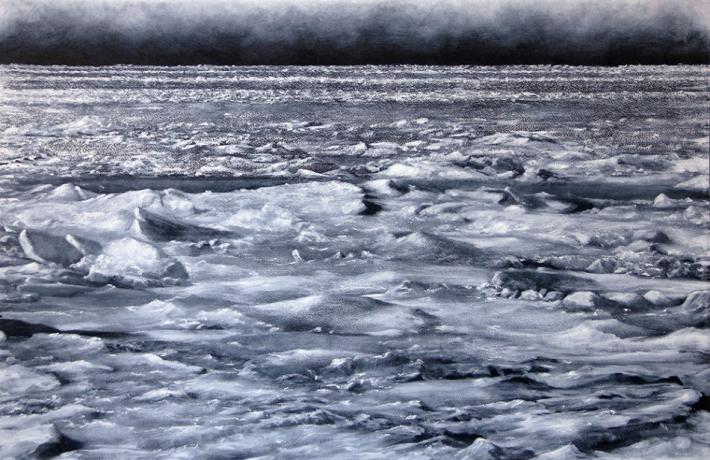 In the twentieth and twenty-first centuries, environmental concerns have come to dominate the conceptual underpinnings of many artists' work. Pack Ice, an oil on paper, mounted on panel, monochrome work by the widely traveled plein air painter Lisa Lebofsky places the viewer directly on the ice. As the far horizon stretches before us nothing is revealed but more ice, creating a deep sense of ill-defined anxiety about an unknown future.

For an artist like Simon Beck, snow is his passion and his medium. His snowshoe clad feet serve as the tool for etching ephemeral images across the northern hemisphere's frozen landscape. Originally trained as an engineer at Oxford, Beck's designs usually consist of mathematical shapes that he carefully calculates before stepping foot on the virginal white surface of new-fallen snow.