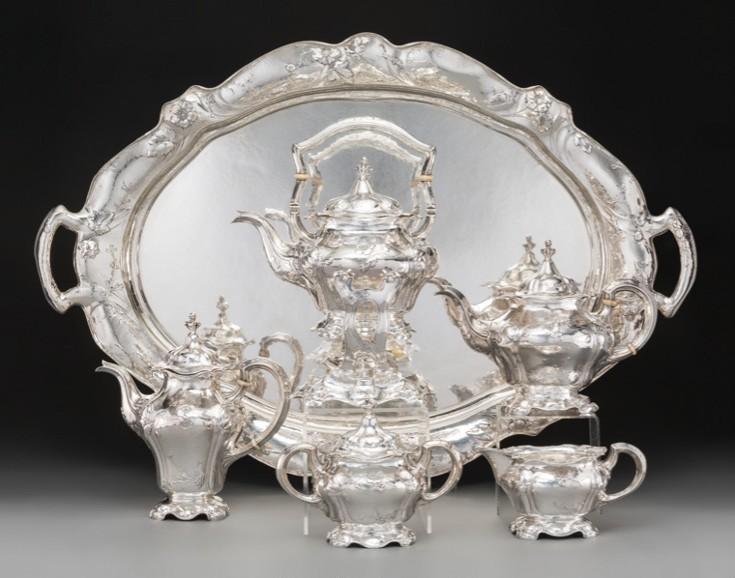 Courtesy Heritage Auctions
DALLAS, Texas (April 10, 2018) — A stunning tea and coffee service is expected to vie for top-lot honors in Heritage Auctions' Silver & Vertu Auction April 25 in Dallas, Texas.

The Six-Piece Gorham Martelé Silver Tea and Coffee Service, Providence, Rhode Island, circa 1917(est. $25,000-35,000) includes a hot water kettle and stand, a coffee pot, a teapot, covered sugar, creamer and tray, each with chased repoussé poppy and foliate motifs. At 423 troy ounces, this substantial delicate tour de force took 513 hours to produce.

"This auction includes extraordinary pieces created by fine silversmiths and goldsmiths from England and the Continent to America, Mexico and Asia," said Heritage Auctions Silver & Decorative Art Director Karen Rigdon. "The lots span from fine 18th-century works by Georgian silversmiths to the 21st century creations of Yossi Swed."

Lots by sought after English silversmiths include works by Paul Storr, Robert Hennell II and Garrard & Co.

· Twelve Paul Storr George III Silver Soup Plates, London, England, 1805 (est. $20,000-30,000): the borders have gadrooned banding interspersed with shell and scrolled flourishes and an engraved armorial crest to each with the motto "PASSANT CRESSANT EN HONEUR."

· A Pair of Robert Hennell II Silver Wine Coolers, London, England, 1821 (est. $20,000-30,000): campana-form coolers with twisting gadrooning that brings great motion to their classical presence.

· A Very Large Garrard & Co. Silver Covered Montieth and Footed Salver, London, England, 1978 (est. $12,000-18,000): a traditional form, with modern clean lines and unexpectedly presented ensuite with cover and footed salver.

A Gorham 14K Gold Ecclesiastical Chalice, Providence, Rhode Island, circa 1905 (est. $18,000-22,000) is a stunning piece engraved on the underside "Rev. J.J. McLoghlin, In remembrance of St. Mary's Cortland, N.Y., July 22, '07, A.S.M. 5-20-26, F.R.D. 3-19-77." McLoghlin was an Irish clergyman who was an ordained priest in the Cathedral of the Immaculate Conception in Albany, N.Y., and later served as pastor of St. Mary's Church in Cortland, N.Y.

Ten lots by the highly collected silversmith Yossi Swed are sure to delight, including a Yossi Swed Partial Gilt Silver Etrog Box on Stand, 20th century (est. $10,000-15,000).

Other top lots include, but are not limited to:

· An Eight-Piece Banquet-Sized Silver-Plated and Cut-Glass Surtout de Table with Elephant Motif, Sheffield, England, circa 1920 and later (est. $10,000-15,000)

· A Seven-Piece Tiffany & Co. Hampton Pattern Silver Tea and Coffee Service, New York, New York, designed 1934 (est. $10,000-15,000)

· A Two-Piece Gorham Narragansett Pattern Silver Salad Serving Set, Providence, Rhode Island, designed 1878 (est. $10,000-15,000)

· A German or French 18K Gold and Bloodstone Snuff Box, circa 1760 (est. $3,000-5,000)

Heritage Auctions is the largest fine art and collectibles auction house founded in the United States, and the world's largest collectibles auctioneer. Heritage maintains offices in New York, Dallas, Beverly Hills, San Francisco, Chicago, Palm Beach, London, Paris, Geneva, Amsterdam and Hong Kong.