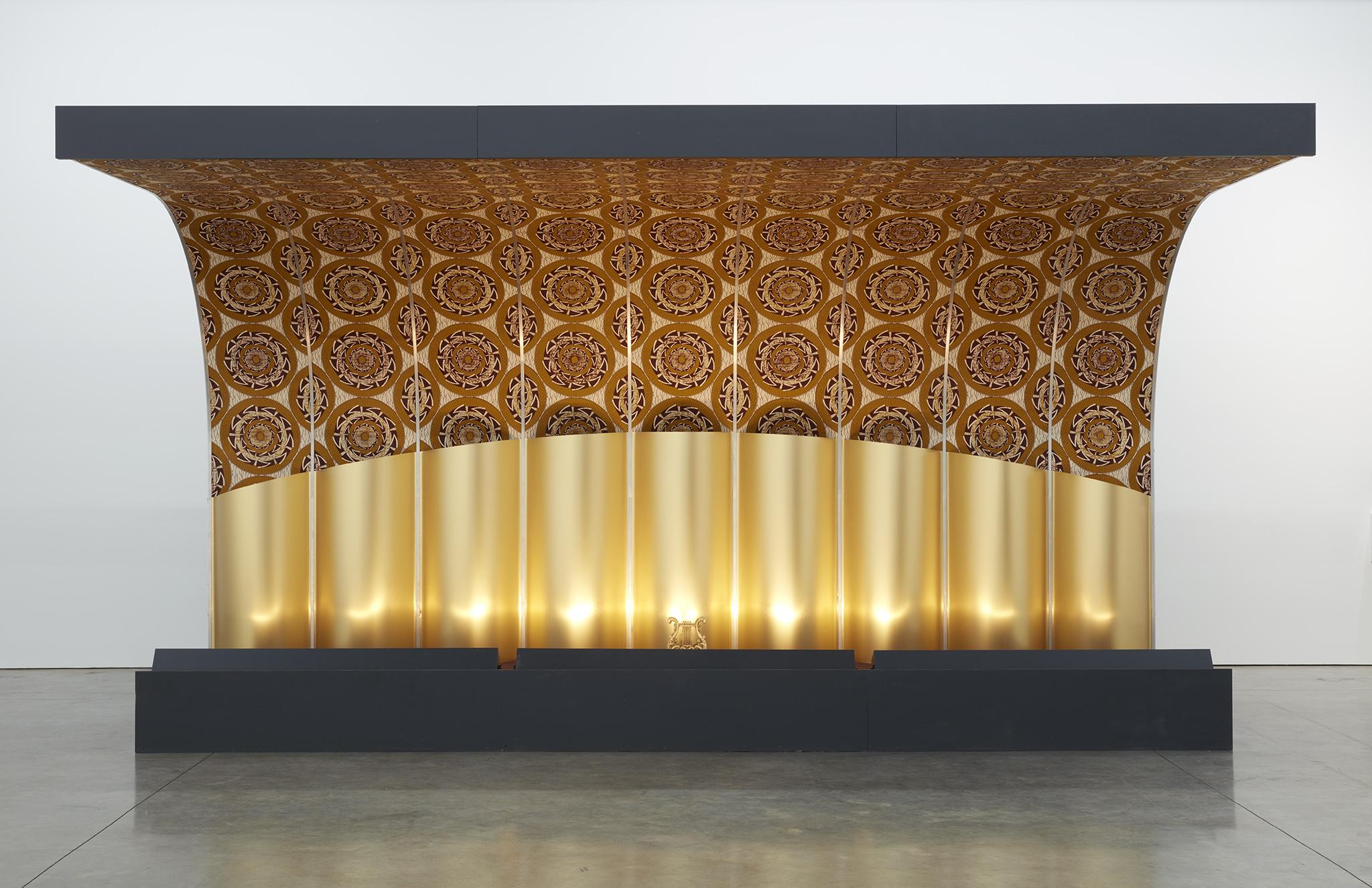 Courtesy Walker Art Center
The work of interdisciplinary artist Jason Moran (US, b. 1974) is grounded in musical composition, yet bridges the visual and performing arts through stagecraft. Moran is known for using personal experience to create dynamic musical compositions that challenge the conventional form of the medium. His experimental works embrace the intersection of objects and sound, pushing beyond the traditional staged concert or sculpture to amplify ways that both are inherently theatrical. This exhibition, the artist's first museum show, features the range of work Moran has explored, from his own sculptural works and collaborations with visual artists to performances. Jason Moran will be on view April 26–August 19, 2018, in the Walker's Target and Friedman galleries
In all aspects of his work, Moran's creative process is informed by one of the essential tenets of jazz music: the "set" in which musicians come together to engage in a collaborative process of improvisation, riffing off of one another to create the musical experience. The exhibition will highlight Moran's mixed-media "set" installations STAGED: Savoy Ballroom 1 and STAGED: Three Deuces (both 2015), sculptural vignettes based on storied music venues from past eras that were his acclaimed contributions to the 2015 Venice Biennale. The exhibition will also premiere a new sculptural commission as part of this series. The presentation also features a selection of Moran's most recent charcoal drawings and time-based media works from his long-standing collaborations, or sets, with visual artists including Lorna Simpson, Glenn Ligon, and Theaster Gates. In-gallery performances and a new commission for the stage will be orchestrated during the run of the show to complement the gallery presentation.
Curator: Adrienne Edwards with Danielle Jackson
ABOUT THE ARTIST

Jazz pianist, composer, and visual artist Jason Moran (b. 1975, Houston, Texas) earned a degree from the Manhattan School of Music. He was named Ford Foundation The Art of Change Fellow in 2017 with his wife and collaborator Alicia Hall Moran, a MacArthur Fellow in 2010, and is the Artistic Director for Jazz at The Kennedy Center. Moran currently teaches at the New England Conservatory of Music in Boston, MA. Moran has produced 11 albums and six film soundtracks, including scores for Ava DuVernay's films Selma and 13th. He has collaborated with visual artists, including Joan Jonas, Adam Pendleton, Glenn Ligon, Kara Walker, Lorna Simpson, Stan Douglas, Theaster Gates, among others. His work was featured in the 2015 Venice Biennale.
RELATED EVENTS
Jason Moran with Ryan Trecartin and Lizzie Fitch: Jazz Fest
May 18th & May 19th 2018, 8pm
McGuire Theater, $35 ($28 Walker Members)
"Not only a pianist and composer but also a fluent traveler in the realm of contemporary art." —New York Times
Celebrated jazz pianist/composer/visual artist Jason Moran returns to the Walker to present a new multimedia performance that examines the various ways jazz functions: as freedom music, as a model of democracy, and as a prop. The work features Moran's trio the Bandwagon (with bassist Tarus Mateen and drummer Nasheet Waits) in collaboration with prescient artists Lizzie Fitch and Ryan Trecartin, whose narrative-driven video installations explore the fluid nature of identity, community, and cultural subjectivity.
Walker Commission/World Premiere