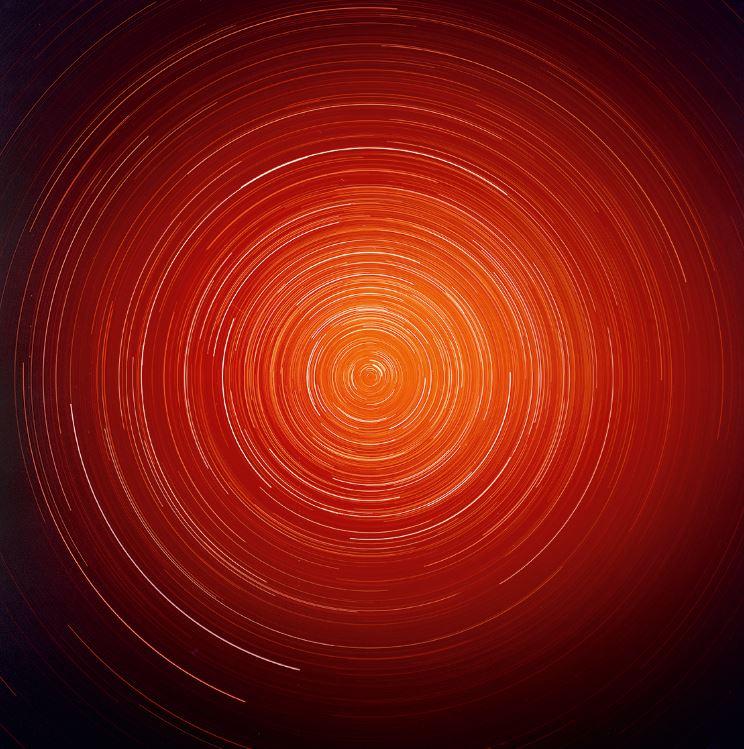 Image courtesy of the artist; Metro Pictures, New York; Altman Siegel Gallery, San Francisco. © 2010, Trevor Paglen. Photo by: Gene Young
Trevor Paglen is an award-winning artist whose work blurs the lines between art, science and investigative journalism to construct unfamiliar and at times unsettling ways to see and interpret the world. Trevor Paglen: Sites Unseen is the first exhibition to present Paglen's early photographic series alongside his recent sculptural objects and new work with artificial intelligence. The exhibition features more than 100 artworks, including the multimedia installation "The Last Pictures," prototypes of his non-functional satellites and the premiere presentation of his video work "Image Operations." This mid-career survey is on view at the Smithsonian American Art Museum's main building in Washington, D.C., from June 21 through Jan. 6, 2019. Paglen will give an artist talk June 20 at 6:30 p.m.
Inspired by the American landscape tradition, Paglen captures the same horizon seen by iconic photographers Timothy O'Sullivan in the 19th century and Ansel Adams in the 20th. However, in Paglen's photographs, the infrastructure of surveillance also is apparent—a military installation, a spy satellite, a tapped communications cable, a drone or artificial intelligence. Privacy and freedom in the 21st century are among his primary interests. With this presentation, the museum engages visitors in the important and ongoing conversation about privacy and surveillance in contemporary society.
Trevor Paglen: Sites Unseen is organized by John Jacob, the McEvoy Family Curator for Photography at the Smithsonian American Art Museum. It will occupy the entire north wing of galleries at the museum, an unprecedented scale for an exhibition at this location. Following the presentation in Washington, the exhibition will travel to additional venues in the United States and Europe.
"Trevor Paglen: Sites Unseen is the latest exhibition in the long history of programs by this museum to examine America's changing relationship to the landscape," said Stephanie Stebich, The Margaret and Terry Stent Director of the Smithsonian American Art Museum. "Paglen's interest in the land is a starting point for posing interesting questions for viewers about perception and seeing through his works that sit between art and science." 
Paglen's dual efforts to research and photograph the landscape of secrecy enact a performance in which he takes on the mantle of guide to the secret world. The viewer, retracing his passage through the landscape of secrecy in the exhibition, reenacts that performance. Paglen does not expose secrets, but instead shows secrecy as a system organizing human activity by producing constraints on freedom. "Rather than trying to find out what's actually going on behind closed doors," he said, "I'm trying to take a long hard look at the door itself."
Paglen's photographs show something people are not meant to see, whose concealment he regards as symptomatic of the historical moment people inhabit. His objects act in opposition to what his images have exposed, imagining another and potentially different world. 
 "Trevor Paglen is a conceptual artist with activist intentions," said Jacob. "Helping to better see the particular moment we live in and producing spaces in which to envision alternative futures are among his chief concerns." 
Paglen's exploration of the landscape of secrecy has spanned a decade during which the expansion of its infrastructure has seen the development of the automated seeing systems that now concern him. What is radical about this moment, he suggests, is that most images are now made by machines for other machines—images that do not operate recognizably as images and thereby challenge people's understanding not only of what images are and what they do, but also what can be done with them or done about them. Paglen and the exhibition ask if images are in some sense the defining characteristic of human history and culture: are image makers adequate to address the challenges of this historical moment's radical redefinition of humanity?
ABOUT THE ARTIST
Paglen (b. 1974) is an artist, geographer and investigative journalist. He is a 2017 recipient of the MacArthur Foundation "genius" Award. He has exhibited widely in solo and group exhibitions internationally. His work is included in the collections of the Metropolitan Museum of Art, San Francisco Museum of Modern Art, Smithsonian American Art Museum, Whitney Museum of American Art, Berkeley Art Museum, Solomon R. Guggenheim Museum, Victoria and Albert Museum, and Nevada Museum of Art. In late 2018, Paglen is set to launch an artwork, "Orbital Reflector," into outer space with the Nevada Museum of Art. In 2016, he received the Deutsche Börse Photography Foundation Prize, and in 2014 he received the Electronic Frontier Foundation's Pioneer Award for his work as a "groundbreaking investigative artist."
Paglen holds a bachelor's degree from the University of California Berkeley, a master's degree in fine art from the Art Institute of Chicago and a doctorate in geography from University of California Berkeley. He is the author of five books and numerous articles on subjects including experimental geography, state secrecy, military symbology, photography and visuality. 
He is represented by Altman Siegel Gallery in San Francisco and Metro Pictures in New York City.
TOUR
The exhibition will travel to the San Diego Museum of Contemporary Art (Feb. 21, 2019–June 2, 2019) and the Kunsthalle Wien (Fall 2019) in Vienna.
PUBLIC PROGRAMS
Paglen will discuss the ideas in the exhibition Wednesday, June 20, at 6:30 p.m. 
A U.S. premiere performance of Paglen's "Sight Machine" with the Kronos Quartet will occur Thursday, Oct. 25, at 9 p.m. in the museum's Kogod Courtyard. Details and information about purchasing tickets will be available online this summer. The concert is made possible by support from the Altman Siegel Gallery, A.I. Now, Cantor Center for the Arts, Obscura Digital and Metro Pictures, New York. The performance in Washington is presented through the Norma Lee and Morton Funger Endowment in memory of William Scott Funger, Shelby and Frederick Gans and Jason Tilroe. 
A conversation with Paglen; Kate Crawford, artificial intelligence ethicist at A.I. Now, New York University; Wendy Hui Kyong Chun, digital media theorist at the Annenberg Center for Communication, University of Pennsylvania; and Alvaro Bedoya, privacy law expert at the Center on Privacy and Technology, Georgetown University Law Center will take place Friday, Oct. 26, at 6 p.m. The panel will discuss Paglen's work and examine the role of art and arts institutions in the age of artificial intelligence.
BOOK
The exhibition is accompanied by a fully illustrated catalog published by GILES in association with the Smithsonian American Art Museum. The book features essays by Jacob and Luke Skrebowski, faculty member at The University of Manchester; and a conversation between Paglen, Crawford and Chun. The catalog will be available for purchase in the museum store and online ($59.95, hardcover).
CREDIT
Trevor Paglen: Sites Unseen is organized by the Smithsonian American Art Museum with support from Carolyn Small Alper Exhibitions Fund, The Altman Siegel Family, Paul and Emma Bain, Gabrielle Bekink and the Honorable Rudolf Bekink, Joanne and Richard Brodie, Joanne and Richard Brodie Exhibition Endowment, Elizabeth Broun, Elizabeth Broun Curatorial Endowment, James F. Dicke Family Endowment, Sheila Duignan and Mike Wilkins, Arthur Fleischer Jr. and Susan Fleischer, Ed Fries, Carole Gigliotti in honor of Paula and Peter Lunder, mark sanford gross and billy ocallaghan, Alex Lakatos and Kelly Riser Lakatos, Lannan Foundation, Paula and Peter Lunder, The Robert Mapplethorpe Foundation, Nion McEvoy, Metro Pictures, New York, Jack and Marjorie Rachlin Curatorial Endowment, Smithsonian Council for American Art, Bernie Stadiem Endowment Fund, Adriana and Aaron Vermut, Virtru Data Privacy and the Elizabeth B. and Laurence I. Wood Endowment. 
Support for the exhibition's tour is provided by the C.F. Foundation in Atlanta and the William R. Kenan Jr. Endowment Fund. 
ABOUT THE SMITHSONIAN AMERICAN ART MUSEUM
The Smithsonian American Art Museum celebrates the vision and creativity of Americans with artworks in all media spanning more than four centuries. Its National Historic Landmark building is located at Eighth and F streets N.W., above the Gallery Place/Chinatown Metrorail station. Museum hours are 11:30 a.m. to 7 p.m. daily (closed Dec. 25). Admission is free. Follow the museum on Twitter, Instagram, Facebook, and YouTube. Museum information (recorded): (202) 633-7970. Smithsonian information: (202) 633-1000. Website: americanart.si.edu