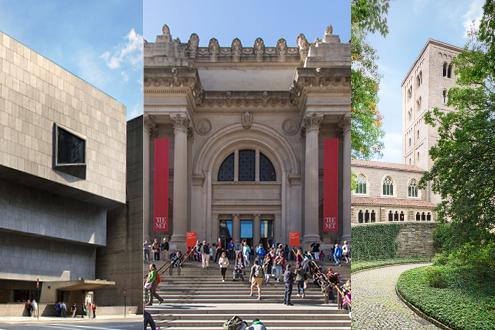 Courtesy the Met
Current Pay-as-you-wish policy will continue for all New York State residents and students from Connecticut and New Jersey
Revised policy will charge mandatory admission fee for visitors from outside of New York
All full-priced admissions tickets will be honored for three consecutive days at The Met's three locations
(New York, January 4, 2018)—The Metropolitan Museum of Art announced today a revised admissions policy. Under the updated policy, which received approval from New York City's Department of Cultural Affairs, admission for residents of New York State and students from New Jersey and Connecticut will continue to be pay-as-you-wish, and visitors from outside New York State will be required to pay a mandatory admission fee. The Met projects that the updated policy will affect 31 percent of all Museum visitors. The Met also announced that it will honor full-price admissions tickets for three consecutive days, giving visitors more time to experience each of the Museum's three locations. All children under 12 will continue to be admitted for free. The Museum is now developing guidelines and practices for the revised policy, which will be implemented on March 1, 2018.

"The Met and the City are partners, and we are grateful to Mayor de Blasio and Commissioner Finkelpearl for their thoughtful review of this policy and for working with us to ensure that The Met will continue to serve all of New York and our visitors from around the nation and the world for generations to come," said Daniel H. Weiss, President and CEO of The Met. "We are committed to achieving excellence in all that we do, and we are determined that the Museum will remain accessible to as many visitors as possible while it also thrives as a financially stable institution."

Mandatory admission for visitors from outside New York State will match the current suggested admissions prices: $25 for adults, $17 for seniors, and $12 for students. Admission for all children under 12 will remain free. Special exhibitions, guided tours, and gallery talks will also continue to be free with Museum admission.

"The Metropolitan Museum of Art is an essential part of the fabric of New York City, and its mission to connect people to creativity, knowledge, and ideas is more important today than ever before," said New York City Department of Cultural Affairs Commissioner Tom Finkelpearl. "This updated admissions policy will give the Museum a solid foundation to continue to grow its programming and engage New Yorkers from all corners of the city and visitors from around the world, while providing a unique opportunity to direct public resources to underserved communities throughout the five boroughs."

The Museum is extending the pay-as-you-wish policy to students from New Jersey and Connecticut so that all tri-state students may have access to The Met. For the first year of this revised policy, The Met's Board of Trustees will provide funding to enable this access. "Introducing the next generation to art and cultural heritage is at the core of The Met's mission, and we're honored to be able to help ensure that all area students can visit, learn, and engage with the Museum as they would like," said Daniel Brodsky, Chairman of the Museum's Board of Trustees. The Museum will seek philanthropic support to fund this student program in future years.

"Most important, today's announcement ensures that we keep The Met open and accessible for all New Yorkers and their families, while guaranteeing that one of our cornerstone cultural institutions is financially sound for the foreseeable future," said New York City Council Cultural Affairs and Libraries Committee Chair Jimmy Van Bramer.

"First and foremost, NYC & Company believes in a strong cultural community," added Fred Dixon, President and CEO of NYC & Co. "As such, we feel that visitation to the City will continue to thrive despite a move to charge admission to tourists at The Metropolitan Museum of Art. This pricing approach is also not uncommon. Given that there is already reduced admission at The Met for seniors, students, and children, by any measure, the $25 admission fee is still an extraordinary value to access the world's greatest encyclopedic collection of art." 

New York City Council Member Keith Powers, whose district includes The Met Fifth Avenue and The Met Breuer, said, "Policies that help our cultural institutions thrive are something we can all get behind. With its new admissions policy, The Met can continue attracting visitors from around the world to our city, while keeping its doors open to everyone who calls New York home." NYC Parks Commissioner Mitchell J. Silver, FAICP, added, "Art brings people together, and now, more than ever, it is crucial that we ensure that art is as accessible as possible. That is why The Metropolitan Museum of Art is revising its admissions policy, so generations to come will have access to one of the most preeminent art institutions in the world."

Background on Updated Admissions Policy

The Museum's current suggested-admissions model was created in 1970. New York City's Department of Cultural Affairs reviews all admissions policy changes because The Met's Fifth Avenue building resides on City-owned land.

Before 1970, The Met had had a variety of admissions policies, including mandatory admissions fees for all visitors on certain days and charging for select special exhibitions. In the decades since the pay-as-you-wish policy was implemented, The Met has grown to become the largest art museum in the world and the most visited tourist attraction in New York City. In the last eight years alone, visitorship has increased by 40 percent to more than 7 million visitors across all three locations.

The Met is the only museum among its local and international peers that does not have some type of mandatory admission fee or that does not receive the majority of its funding from the government. Each of New York City's other large museums either requires mandatory admission for all visitors or charges for special exhibitions (and some do both). The Met's global peers, including the Smithsonian museums and the National Gallery of Art in Washington, D.C., receive large percentages of their funding from government sources. In 2017, The Met received just 10 percent of its annual $305 million budget from New York City, the majority of which was earmarked for utility costs for the building and a smaller percentage for payroll for security and buildings staff. Under this new policy, City support for the Museum may be reduced by up to $3 million annually, based on the amount of additional revenue generated from admissions.

In recent years, the Museum has experienced a significant decline in revenue generated per visitor under the pay-as-you-wish policy. In 2004, 63 percent of visitors contributed the full suggested admission. Today, only 17 percent of adults pay the full amount: a 73 percent decline. The average per-person contribution has also fallen to $9.

In 2017, The Met generated roughly 14 percent of its operating budget from admissions revenue, among the lowest of its New York City peers (which ranged up to 31 percent in 2016). The Museum estimates the revised policy will increase admissions revenue as a percentage of The Met's overall budget by 2 to 3 percent.

Projected Impact of Updated Admissions Policy

The new mandatory admissions policy will affect approximately 31 percent of the Museum's visitors. Of those visitors, The Met's internal research indicates that four out of five will be tourists from outside the tri-state area or from overseas who spend an average of $1,200 per person on their trips to New York. Furthermore, 41 percent of visitors pay no admissions when they visit The Met because they are members or are with groups or are children under 12, and 14 percent enter on discounted passes such as City Pass. Thirty percent of Met visitors are from New York City, and 6 percent are from New York State areas outside the City.

The Met's revised admissions policy is similar to plans adopted by other major museums in the United States that offer discounts to local visitors with proof of residence, including the Los Angeles County Museum of Art, the Art Institute of Chicago, and the Detroit Institute of Arts. In New York City, the Intrepid Sea, Air, and Space Museum and the New York Botanical Garden also offer discounts to local visitors. 

Implementing the Updated Admissions Policy

The Met will be taking a number of measures to communicate the new policy to visitors from outside the tri-state area and across New York State. The Museum has been working with the City's Office of Immigrant Affairs and The Met's Multicultural Audience Development Initiative to develop policies and practices to welcome all visitors, including undocumented residents, and to develop an outreach campaign in communities across the five boroughs. The Met has offered membership to IDNYC card members for their first year since the inception of that program, and will become a temporary IDNYC site from March 5 to 16, to coincide with the launch of the new admissions policy.

"The Met is an indispensable cultural resource for New Yorkers of all stripes, and so we're pleased that the Museum is ensuring that it can continue to remain open and accessible to all residents," said Acting Commissioner of the Mayor's Office of Immigrant Affairs, Bitta Mostofi. "Through our office's ongoing partnership with The Met, we are helping to keep the doors of the museum wide open to residents hailing from all corners of the city, regardless of immigration status. New Yorkers visiting The Met this March can also take advantage of the IDNYC enrollment site that will be located at The Met Fifth Avenue to sign up for a card, earn special benefits at The Met, and continue their cultural exploration of NYC at some of the City's other mainstay cultural gems."

Working with the City, and following an examination of policies adopted by its peer institutions, the Museum is preparing a list of forms of identification that it will accept as proof of New York State residence or tri-state student status, including IDNYC, library cards, and current bills with a New York State mailing address. 

Finally, all visitor-facing staff, including security guards, food services and retail employees, and The Met's more than 1,300 volunteers, will undergo training in preparation for the policy's introduction in March.