This week, Magnum's Square Print Sale will present over one hundred images and texts by international artists curated under the theme of Solidarity. 
This theme challenges participating photographers to reflect upon the power of togetherness in tumultuous times.
While acknowledging the daunting divisions and fault-lines running through society, the selection examines a simultaneous human yearning for commune and connection, aiming to explore the strength of both the individual and collective, as well as the interdependence of peoples around the world in the face of adversity and oppression.
During the sale, over one hundred archival-quality prints, signed by the photographers or estate-stamped by the estates, are available for just $100. For this project, 50 percent of the proceeds from the Magnum Square Print Sale will be donated to the NAACP.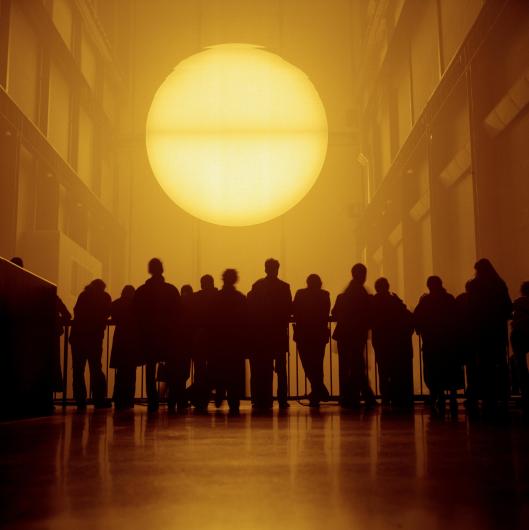 Peter Marlow, The Danish artist, Olafur Eliasson's installation of a huge artificial sun in the Turbine Hall, Tate Modern, London, Great Britain, 2003.
"Global catastrophes remind us we are part of a vast and powerful universe, illuminating the insignificance of our differences. Differences we must strive to overcome."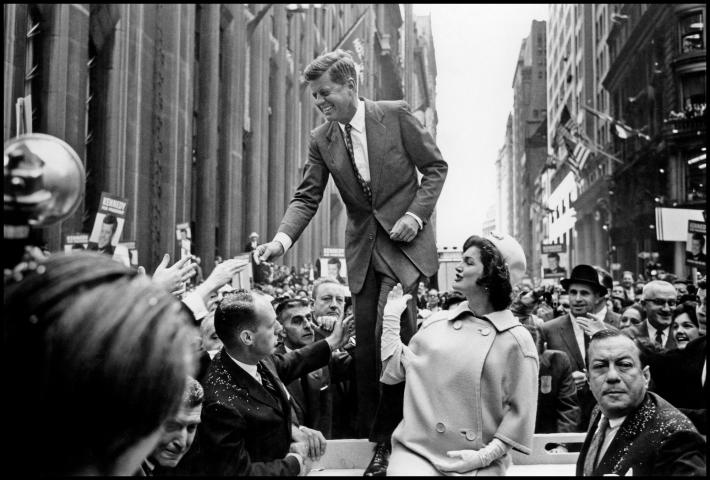 Cornell Capa, John F. Kennedy campaigning, NYC, USA, 1960.
"Images at their passionate and truthful best are as powerful as words can ever be. If they alone cannot bring change, they can at least provide an understanding mirror of man's actions, thereby sharpening human awareness and awakening conscience."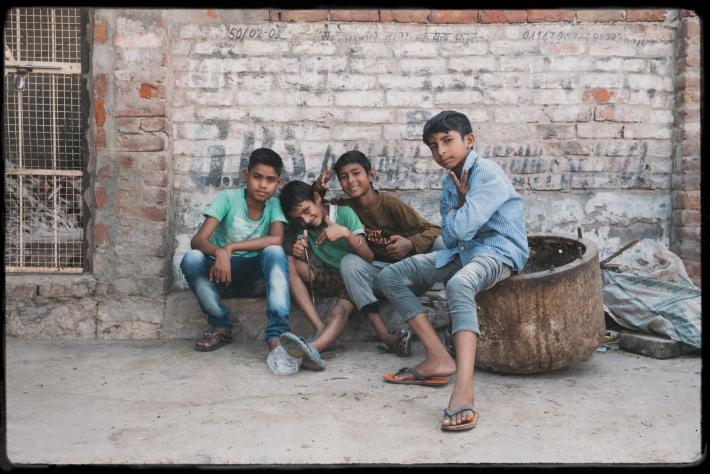 Justin French, Jaipur: A Portrait of Friendship, Jaipur, India, 2018.
"The kids shown here were very, very persistent about having their image taken. Because I was technically supposed to be working, I attempted to avoid taking images; however, they were so persistent and so kind and charismatic and had such an admirable display of camaraderie with one another that I felt really compelled to capture that as best I could."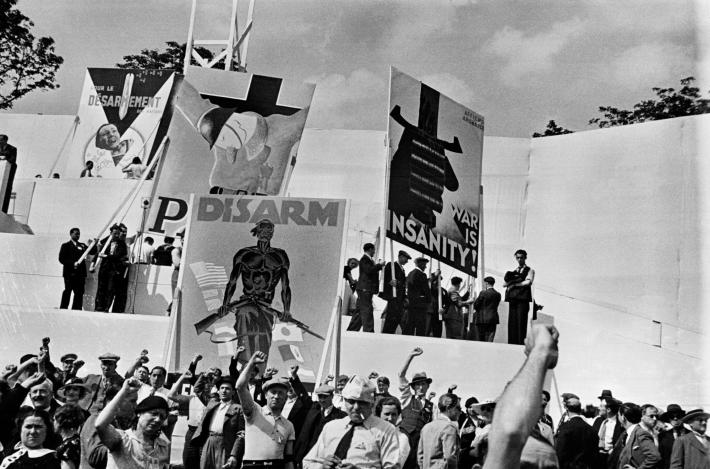 David "Chim" Seymour, Pacifist meeting for the disarmament of nations, Outskirts of Paris, Saint-Cloud, France, August 9, 1936.
"Chim's photo of this pacifist rally for disarmament depicts a passionate commitment to the high ideal of peace. The raised arms of men and women signaled their devotion, while the English and French posters told their story. The rally on August 9, 1936 in the western Paris suburb of Saint-Cloud was aligned with the larger left-wing anti-fascist movement called the 'Front Populaire' or the Popular Front. Emboldened by its May 1936 victories in legislative elections, the Front Populare socialists would eventually install their leader Léon Blum as Prime Minister. The remarkable commitment of Front Populaire members was more intense than just attending a rally: it led many to join the fight against General Francisco Franco's dictatorship and alliance with Nazi Germany, which has become known as the Spanish Civil War. The tens of thousands of people who volunteered to fight a war in another country was an extraordinary sign of solidarity with the anti-fascist Republicans in Spain. Chim's capacity to capture human emotion, while compactly telling an inspirational story marked his work and inspired a generation of photographers who practiced 'concerned photography."'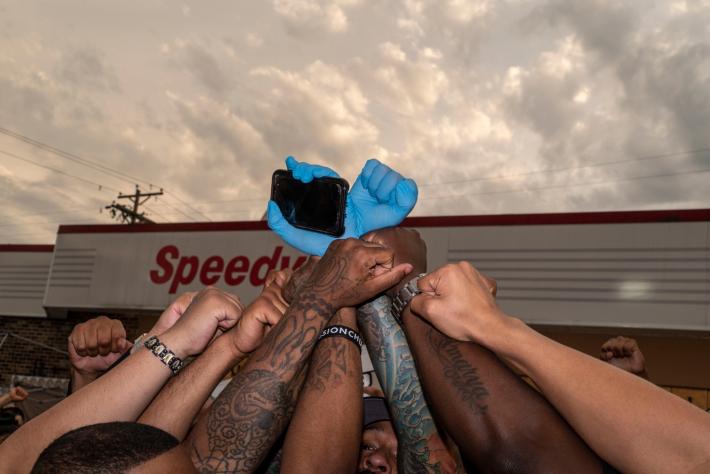 Peter van Agtmael, Cup Foods, Minneapolis, Minnesota, USA, June 2, 2020.
"When I first arrived in Minneapolis, Cup Foods, where George Floyd was killed by police, was a place of silence and mourning. As the days continued, the feeling shifted. It was still a space for people to reflect on the horrific death, but it also became a place where people made art, served free food, collected goods for the needy, and even partied after months of confinement. A young woman, Ranay Barton, told me, 'I came out here because I was angry. The first thing that ran through my mind was to be mad at white people. When things like this happen, you tend to segregate yourself. But seeing all the support and solidarity calmed me down: all these people are different colors, from different places, coming together for a purpose. I feel like the world should be like that.'"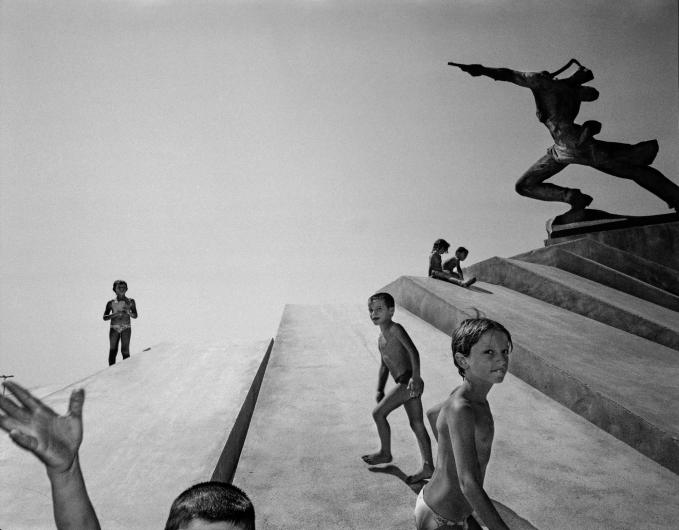 Carl de Keyzer, Monument to the WWII resistance movement, Durres, Albania, 1995.
"When I arrived in Albania for the first time in 1995, the country was not ready to host visitors. After years of brutal communism that completely closed it off from the outside world, only a few rooms were available to visitors in the entire country.
After crossing a very surreal border post (with a very corrupt guard) in an old camper van, we reached Korce, where we stayed in the only hotel in town, a 12-storey building with only four rooms available on the eighth floor. The elevator was not working.
Later in the trip, when visiting Durreswe stayed in a private room together with a retired general who could not stop talking about the glory days of Albanian communism when it withstood all pressure from the outside world.
Looking out of my window I could see a monument to the WWII resistance movement with children playing on top of it. I could not resist going over there.
In 2011, I revisited the Albanian coast. The whole area is now full of new hotels, terraces and bars."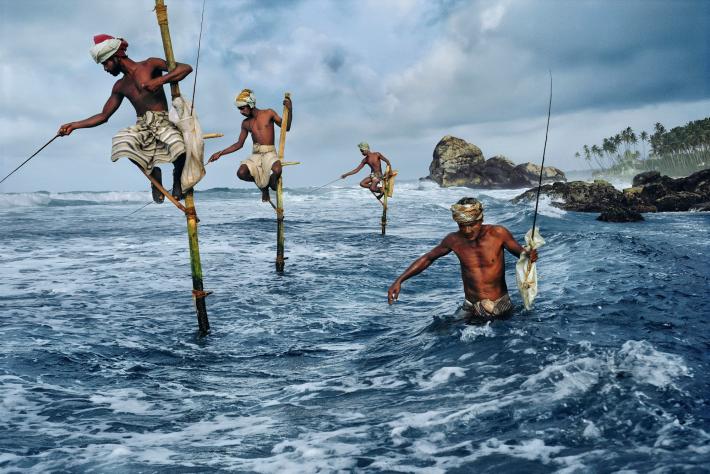 Steve McCurry, Fishermen, Weligama, South coast, Sri Lanka, 1995.
"These fishermen off the South coast of Sri Lanka used this bygone traditional method to catch fish in shallow waters. Very few fishermen are still keeping this tradition alive, as most of them have moved toward more modern methods. They demonstrate both independence and solidarity of community as they endeavor to provide sustenance for their families. Inherent in solidarity is the concept of responsibility toour fellow humans. This principle is especially relevant in these turbulent times."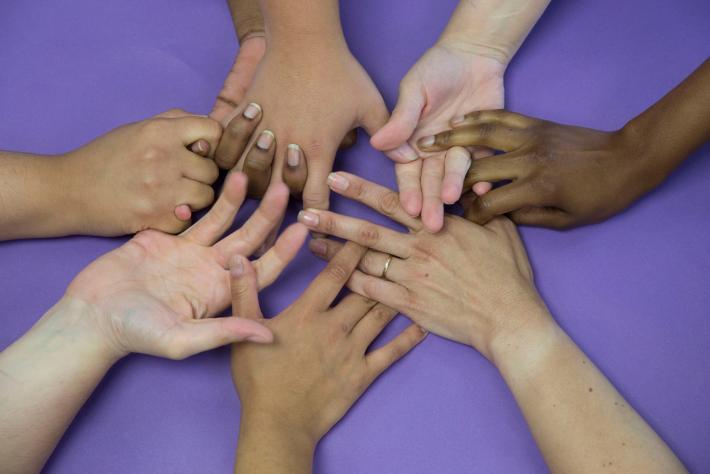 Susan Meiselas, Shared Dining, Women of York, 2015.
"This circle of hands came together to celebrate unity despite the isolating conditions of incarceration. Each woman, enduring separation from family and home, found moments to connect and care for another. Some have moved on since then; some still remain. For all of us, memory is shaped by the time shared."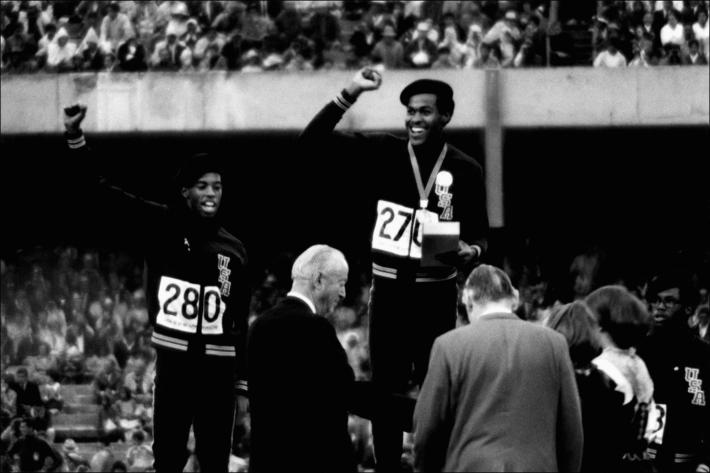 Raymond Depardon, American athletes Larry James, Lee Evans and Ron Freeman (left to right) on the winner's podium for the 400-meter relay at the 1968 Olympic Games, Mexico City, Mexico, 1968.
"Night has fallen, it is the month of October 1968. The crowd at the Olympic Stadium in Mexico City is full of joy. Tommie Smith and John Carlos have given their Black Power salutes, and now it is the turn of Lee Evans, Larry James and Ron Freeman to echo the gesture of protest and raise their fists at the 400-meter medal ceremony."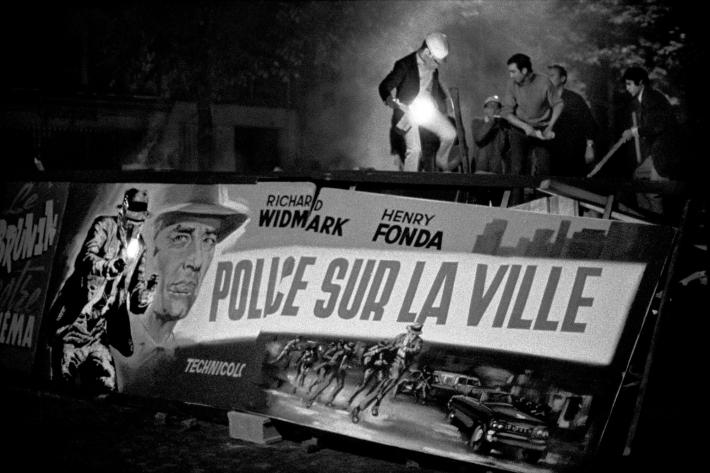 Bruno Barbey, Barricade built out of movie posters, Rue Saint Michel/Rue de Lyon, near the Bastille, France, May 24, 1968.
"This photo was taken in May '68 during the student demonstrations in Paris.
On this occasion, the students were also protesting against the Vietnam War. I worked with natural light without using a flash. The students were building barricades with everything they could find on the street, including this movie poster.
By an astonishing chance, the French title of this movie Police Sur La Ville (Police in the City) reflected well the situation in Paris."