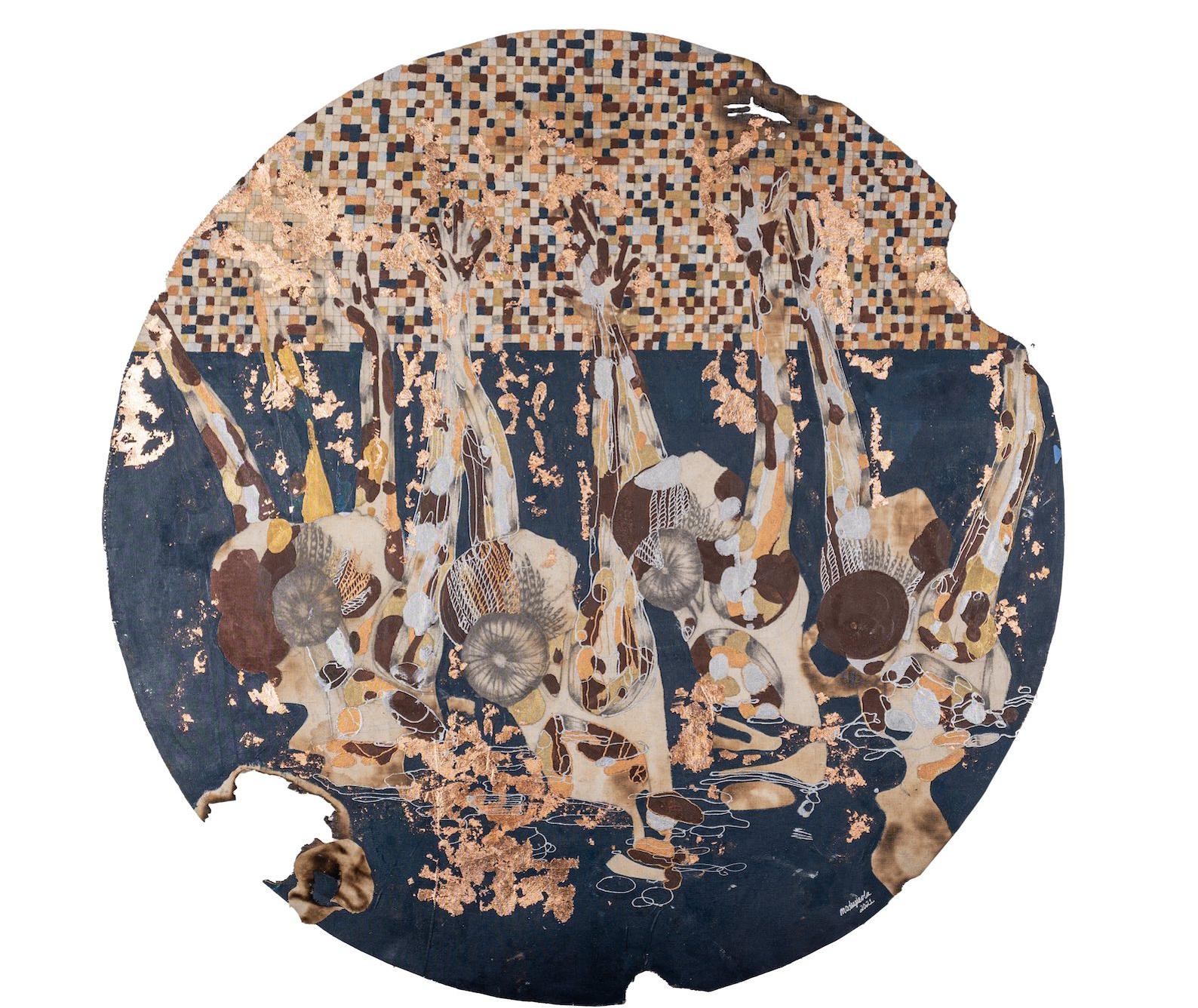 © Modupeola Fadugba 
Alara, Lagos is honored to present the inaugural exhibition of The Artist's Algorithm project: an artist-led initiative based out of artist Modupeola Fadugba's Studio.
Have you ever wondered who made the rules in the game of life, who established the hierarchies between love and fear, men and women, rich and poor, young and old, a government and its citizens? If you were the ultimate creator, how would you make the universe? As an artist, how would you reimagine the future?
The Artist's Algorithm is a new series of exhibitions, essays, talks, games, performances, mentorship programs, murals, and videos which aims to shed light on problems in education, politics, and governance through art. This new initiative builds on the core tenets of Fadugba's award winning debut work, The People's Algorithm—an interactive game installation in which players explore ways to win within the framework of Nigeria's pressing unemployment and educational crisis. Influenced by six years spent working in research, policy, and administration within Nigeria's education sector, this participatory game installation invites audience members to confront statistical realities faced by Nigerian students, teachers, and policy makers.
Why Nations Win is the inaugural exhibition in The Artist's Algorithm Series. It serves as an overview for a multi-year, multimedia project activating the past three years of Fadugba's socially engaged research, evolving studio practice, and resulting artworks. For its first presentation at Alara before traveling to Senegal in 2022 and Harlem in 2023, the exhibition will embrace an introductory, open-studio context including 20 works on paper and canvas, a video, and game installation accompanied by a live program. The interdisciplinary and interactive elements all adhere to Fadugba's interests in global expression – rooted in her upbringing across East and West Africa, Europe, and America—and foster collaborative thought leadership across countries while empowering the continent. Greatly inspired by the African Renaissance Theory—a belief in the cultural, scientific, and economic renewal of post-colonial African nations—The Artist's Algorithm's mission is to promote interdisciplinary, educational, and economically sustainable creative initiatives in Africa.
Moreover, it is also a place for dreams, games, and the provocative power of play. While at the National Museum of African Art as a 2020 Smithsonian Artist Research Fellow, Fadugba found herself locked inside the National Museum of African Art overnight. As she walked through several rooms encountering paintings, sculptures and artefacts, she encountered hidden histories amongst dreams for the future...
I envisioned the rising and falling apart of African nations and civilizations – and where we stand now. But what was most humbling about that encounter, was the realization of how little I knew about African culture. As a child, I was always startled by differences in outcomes in each of the first and third world countries. I've always wondered : "Why do some nations win and others lose?" Even now, as an artist, I still wonder why some stories are more dominant than others, and how do we redefine what it means to win, to be celebrated, and have enduring representation? I ended up dumping out all of the things from my bag, rearranging them, and reimagining them, and I think that was the beginning of creating what I'm calling the artist's algorithm. It is the way that I would reimagine how art can be used to solve problems through education, using what I already know.
An algorithm, by definition, is a process or set of rules to be solved. It's like a riddle. The question for society is who controls the algorithm? How do artists win? What is the algorithm for love? Alone in the museum, Fadugba kept thinking about love and fear, and the hierarchy between these polarities: how can love triumph over fear? For the artist, an avid lifelong swimmer and student, Fadugba has created swimming as a key narrative and visual tool for education and storytelling. "For me, swimming and painting swimmers is an act of love in the face of fear for many, who face tragedy and erasure when navigating contested waters. My love language is learning and teaching, and thus the swim stories I create through art are rooted in education – my synchronized swimmers become role models of what's possible. Seeing is believing. My synchronized swimmers represent a sort of ideal, about rationality, order, and harmony in the world. But the truth is that things fall apart. What algorithm can we use to restructure our stories – what would it take for us all to swim, to win?"
This is The Artist's Algorithm. It's a series of education-centered exhibitions, games, talks, and interventions that will initiate dialogues about African artists, materials, and history. The pieces of Fadugba's algorithm – her rules to win by – include different symbolic motifs: synchronized swimmers, game theory, geographic wonders, national heroes, monuments, and more. These strategies aim to create and celebrate stories, both personal and national, born out of places of learning: pools, schools, museums, or home. Seven years later after becoming a full-time artist, the central question of Fadugba's artistic investigations still remains. Why do nations win? Now, instead of players rolling dice, moving along a monopoly-like board representing an educational system, the embodied protagonist of the swimmer navigates hierarchies within the aquatic arenas of her multimedia swim stories. These reflective artworks embody sites of celebration and spaces for play, where the individual, community, and nations can develop together. The Artist's Algorithm is ultimately a proposal for the future: a dream to create immersive, collaborative, and multi-layered art experiences that offer new interpretations of Africa-centred futures, taking the shame or fear out of learning by making it active, beautiful, and fun. This new way to play gives us new ways to win.
I guess when it comes to playing the game of life, we can all break the rules. I'm looking forward to a future where artists make new ones, creating a game where love always wins.
Modupeola Fadugba (born 1985 in Lomé, Togo) is a multimedia artist working in painting, drawing, and socially-engaged installation. With a background in engineering, education and economics, she comfortably inhabits the nexus of many disciplines. Her works explore cultural identity, social justice, game theory, and the art world within the socio-political landscape of Nigeria and our greater global economy. The People's Algorithm -- a game installation that fosters debate about how to improve Nigeria's education system -- was awarded El Anatsui's Outstanding Production Prize and a 2016 Dakar Biennale Grand Prize from Senegal's Minister of Communication. Her most recent exhibition, Dream from the Deep End, depicts swimmers exploring collaborative ways of being in the water together, set against the bleak backdrop of America's racialized -- and oftentimes tragic -- swimming history. The work was exhibited at Gallery 1957 in Accra, Ghana as part of a multimedia exhibition that reflects the sheer scope of their individual stories and collective experiences as swimmers. Together with ArtDocs, she documented the process of creating these works. The documentary film was screened at the Brooklyn Museum, New York in 2019, and most recently at the Schomburg Center for Research in Black Culture, New York in September 2019. Fadugba holds a Bachelors in Chemical Engineering from the University of Delaware, a Masters in Economics from the University of Delaware, and a Masters in Education from Harvard University. She lives and works in between Abuja, Nigeria and Philadelphia, Pennsylvania. She was a Smithsonian Artist Research Fellow in 2020 and she will be in San Francisco in the Fall of 2022 for the Headlands Residency.