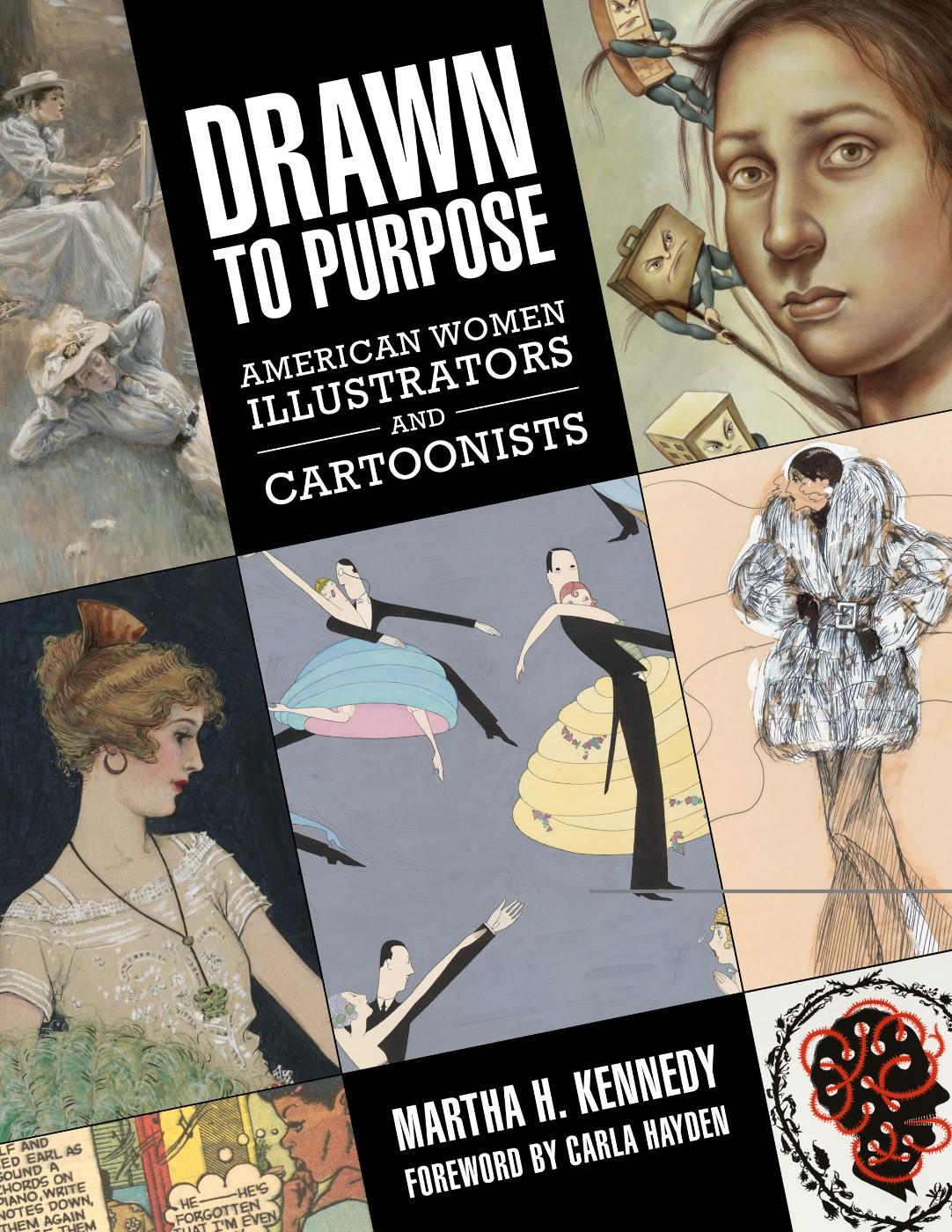 Courtesy Library of Congress
'Drawn to Purpose' Features 80 Artists including Roz Chast, Lynda Barry, Alison Bechdel, Lynn Johnston, Jillian Tamaki and More
A new book presents a survey of the often-neglected artistic achievements of women in cartooning and illustration, featuring more than 250 color illustrations, comic strips and political cartoons, including original art from the collections of the Library of Congress. In "Drawn to Purpose: American Women Illustrators and Cartoonists," Martha H. Kennedy, curator of popular and applied graphic art, presents a comprehensive look at the trailblazing artists whose work was long overlooked in the male-dominated field from the late 19th century into the 21st century.
"Drawn to Purpose" was published in March 2018 by University Press of Mississippi in association with the Library of Congress. It is the first overarching survey of these art forms by women in the Library's collection. The book accompanies the Library's exhibition "Drawn to Purpose" featuring original works by women cartoonists and illustrators.
"'Drawn to Purpose' brings together a remarkable sampling of book illustrations, posters, industrial design, courtroom sketches, comic strips, political cartoons and art for magazines and newspapers produced by women over a 150-year span," Librarian of Congress Carla Hayden wrote in the forward for the book. "As a kid who read everything, I pored over the illustrations just as much as the accompanying words. Images can make reading more meaningful and more memorable."
In 1915, portrait painter Cecelia Beaux predicted it would be at least 1,000 years before the term "women in art" would sound as strange as the term "men in art." Indeed, Kennedy's book tracks the incremental progress and societal pressures that kept all but the most resilient women from advancing in the arts. It's also a story of women artists who were moved by their creative drive, by commerce or by necessity to create art that fulfills a purpose.
Celebrated artists and works featured in the book and exhibition include New Yorker cartoonist Roz Chast, Lynn Johnston's comic strip "For Better or For Worse," innovative artists including Lynda Barry and Hilary Price, those who broke barriers of race or sexual orientation to become voices for underrepresented communities including Barbara Brandon-Croft and Alison Bechdel, and rising stars such as Jillian Tamaki.
The book explores several themes and artistic platforms: The Golden Age of Illustration, Early Cartoonists, New Voices and New Narratives in Comics, Illustrations for Industry, Editorial Illustrators, Magazine Covers and Cartoons, and Political Cartoonists and Caricaturists.
"Drawn to Purpose: American Women Illustrators and Cartoonists," a 238-page hardcover book with more than 250 illustrations, is available for $50 in the Library of Congress Shop, 10 First St. S.E., Washington, D.C., and through retailers. Credit card orders are taken at (888) 682-3557 or loc.gov/shop/.
The book was made possible by support from the Alfred Bendiner Foundation, and the exhibition was made possible by support from the Swann Foundation for Caricature and Cartoon.
The Library of Congress is the world's largest library, offering access to the creative record of the United States—and extensive materials from around the world—both on-site and online. It is the main research arm of the U.S. Congress and the home of the U.S. Copyright Office. Explore collections, reference services and other programs and plan a visit at loc.gov; access the official site for U.S. federal legislative information at congress.gov; and register creative works of authorship at copyright.gov.