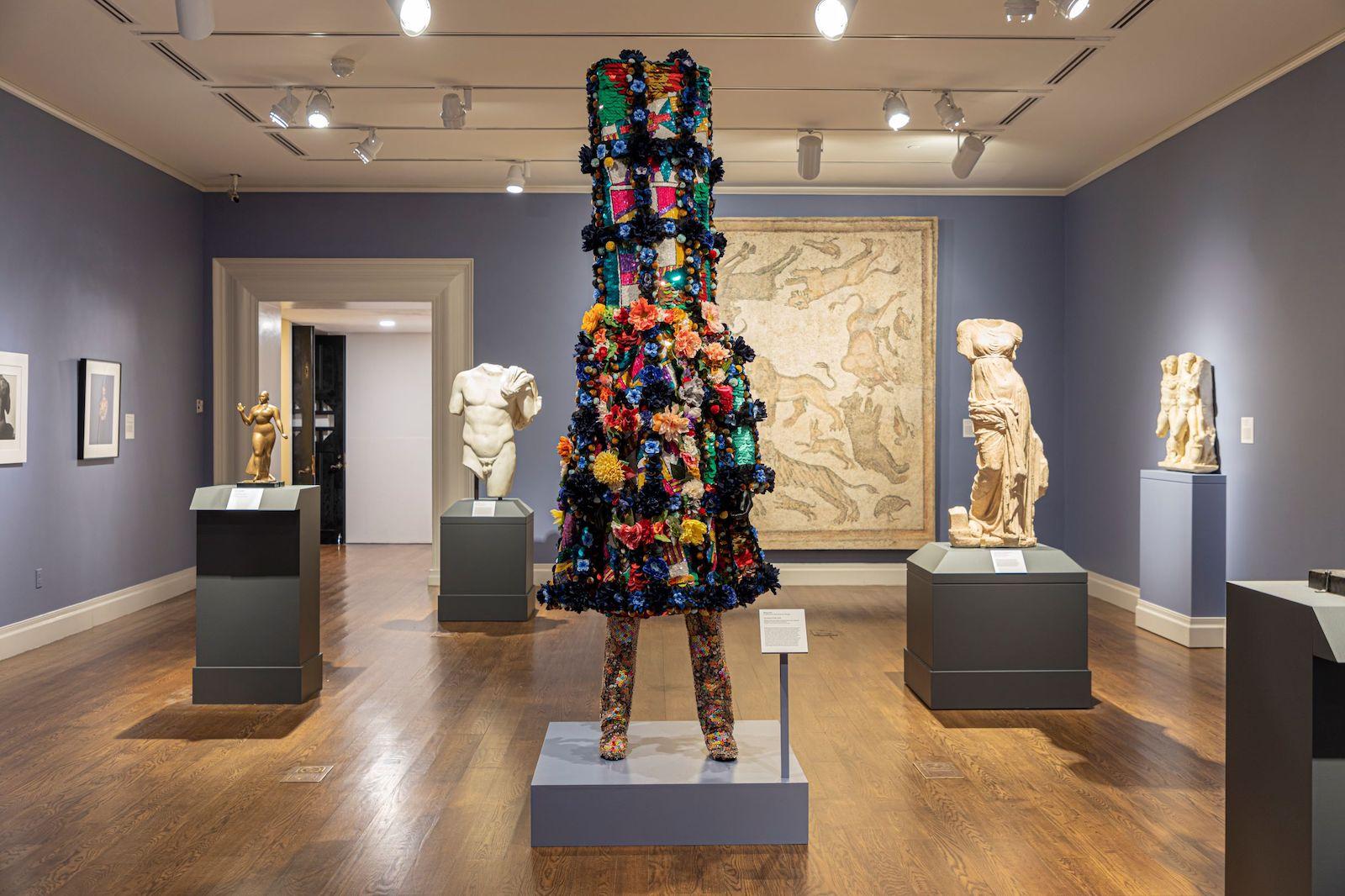 Photo courtesy Honolulu Museum of Art.
HONOLULU, HI – The Honolulu Museum of Art (HoMA) recently acquired a major work by legendary contemporary artist Nick Cave. Soundsuit 8:46 (2021), a mixed-media mannequin of vintage floral textiles and sequined appliques, is a response to recent police violence against people of color, in particular the tragic murder of George Floyd in Minneapolis in May 2020. The work revisits Cave's iconic series "Soundsuits," which were first conceived after the 1991 Rodney King beating and the resulting riots in Los Angeles in 1992. Soundsuit 8:46 forms the centerpiece of the thematic reinstallation of HoMA's permanent collection entitled In Human Terms. This reinstallation showcases works in a variety of media that speak to humanity's desire to explore the meaning and significance embedded within the human form from antiquity to today.
"Nick Cave's essential and innovative work is critical to the reimagining of the museum's collections galleries and to the dialogue we must continue to foster in our communities," said HoMA Director and CEO Halona Norton-Westbrook. "We are grateful to all of the supporters who have made this new acquisition possible, allowing museum audiences across our region to experience it for generations."
Cave originally created the "Soundsuits" as a symbolic form of protection and camouflage that could disguise gender, race, and class – distinctions that have historically been used to stereotype and oppress. The suits' designs offer protection for the wearers, while vibrant patterns and decorative details draw on traditions of cultural celebration. When worn as costumes for dance, the fantastical creations produce a variety of sounds, further confusing any presupposed categories or divisions.
"In Human Terms" traces how the human form has captured the imagination of artists throughout time and history, reflecting shifting cultural attitudes about society, religion, gender, sexuality and racial identities. The sampling of art forms and cultures from HoMA's diverse global collection represented in the gallery find common ground in the visualization of the human figure, from some of its earliest manifestations in the ancient world to its proliferation in contemporary art.
In 2020 HoMA included three of Cave's "Soundsuits" in the exhibition 30 Americans.
Born in 1959, Cave lives and works as an artist, choreographer, and designer in Chicago. His projects have been exhibited and collected by renowned museums and institutions nationwide.
A vital part of Hawaii's cultural landscape, HoMA is a unique gathering place where art, global worldviews, culture and education converge in the heart of Honolulu. In addition to an internationally renowned permanent collection, the museum houses innovative exhibitions, an art school, an independent art house theatre, a café and a museum shop, within one of the most beautiful, iconic buildings in Hawaiʻi. The museum inspires and uplifts our community through transformative art experiences that celebrate creativity, cultivate wonder, foster empathy and enhance knowledge in order to deepen our connection with one another and the world we share.