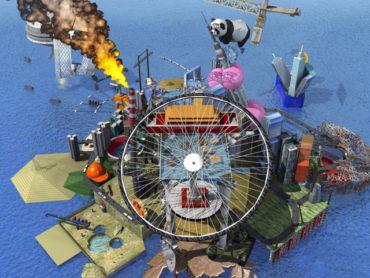 © Cao Fei
The Solomon R. Guggenheim Museum announced the selection of artists commissioned to produce works for the third and final phase of The Robert H. N. Ho Family Foundation Chinese Art Initiative. Cao Fei, Duan Jianyu, Lin Yilin, Wong Ping, and Samson Young have been selected for their unconventional artistic practices, creative experimentation, and critical reflections on social conditions in a technologically mediated reality. Each will collaborate with the museum on individual site-specific projects that respond to interconnected ideas proposed by the curators of the initiative. The commissions will be featured in a group exhibition, on view from May 4 through October 21, 2018 at the Guggenheim, and enter the museum's collection.
The exhibition is organized by Xiaoyu Weng, The Robert H. N. Ho Family Foundation Associate Curator of Chinese Art, and Hou Hanru, Consulting Curator, The Robert H. N. Ho Family Foundation Chinese Art Initiative. Kyung An, Assistant Curator, Asian Art, provides curatorial support. The Robert H. N. Ho Family Foundation Chinese Art Initiative is part of the Guggenheim's Asian Art Initiative, directed by Alexandra Munroe, Samsung Senior Curator, Asian Art and Senior Advisor, Global Arts.
The Robert H. N. Ho Family Foundation Chinese Art Initiative exhibitions continue the Guggenheim's history of collaborating with artists to develop site-specific works. The third exhibition in this series is accompanied by an illustrated publication featuring curatorial essays, new and reprinted poems, and conceptual drawings and images essential to the development of the artists' projects. The book explores the spaces between words and images, and process and production, while also experimenting with the relationship between catalogue publishing and exhibition making.
The commissioned artists are:
Cao Fei (b. 1978, lives and works in Beijing)
Since graduating from Guangzhou Academy of Fine Arts in 2001, Cao Fei has earned international acclaim for her groundbreaking multimedia works that probe the interplay between virtual and real worlds, utopia and dystopia, and the body and technology. She finds impetus in the precarious socioeconomic conditions of contemporary life, and her works are critical witnesses to the impact of hyper economic growth, urban development, and rampant globalization on the individual in China. Her early works explore the alienation and desired escapism felt by China's youth and investigate the personal dreams of factory workers. For RMB City: A Second Life City Planning by China Tracy (aka Cao Fei)(2007), she spent several years developing a virtual city on Second Life, an online platform where users create avatars and can build imagined utopias together. The magical yet dystopian metropolis has been a key theme in Cao's works since she moved from Guangzhou to Beijing in 2006. For Haze and Fog (2013), she shifted her focus to the spiritual malaise induced by capitalism, consumerism, and urbanization. More recent works such as La Town (2014) revisit the subject of a surreal post-apocalyptic metropolis that exists outside a specific time or culture. Cao received the Chinese Contemporary Art Award's (CCAA) Best Young Artist Award and Best Artist Award in 2006 and 2016, respectively. In 2010 she was a finalist for the Hugo Boss Prize.
Duan Jianyu (b. 1970, lives and works in Guangzhou)
Duan Jianyu graduated from the Department of Oil Painting at Guangzhou Academy of Fine Arts in 1995. Narrative is the driving force behind Duan's ethereal large-scale paintings and intimate sculptures. Often working in series, she weaves surreal images of ordinary people and everyday scenarios into allegories of society's moral complexities. Her practice also involves publishing artist books, such as New York, Paris, Zhumadian (2008). A refracted sense of realism gives Duan's paintings a dimension of social critique, as evident in the series Sharp Sharp Smart (2014–16), which she titled after shamate (a phonetic play on the English "smart"), a subculture blending goth, punk, glam, and anime sensibilities that is popular among youth in rural areas in China. Against the backdrop of rustic settings, figures (smiling peasant women who appear either naked or clothed in gaudy colors) and their actions (breastfeeding in front of huts or carrying geese in baskets) allude to the growing tension between China's modernization and its rural tradition. Duan's faux-naïve visual language incorporates references to both Western and Chinese art-historical tradition, from Primitivism and abstraction to Socialist Realism and the work of early twentieth-century Chinese painters who consciously incorporated Western artistic styles. Her anachronistic and humorous approach in works such as Muse and Museum (2011) teases out existing cultural anxieties around regional identity in contemporary China and surpasses simple appropriation to challenge the canon of painting in the age of globalization. She was named Best Artist at the Chinese Contemporary Art Awards (CCAA) in 2010.
Lin Yilin (b. 1964, lives and works in Beijing and New York)
Since the 1980s Lin Yilin has pursued a multifaceted practice rooted in site-specific performance. He draws from shifting socioeconomic and political conditions and experiences of cultural displacement to reimagine the relations between the self, community, and surrounding environments. Lin studied sculpture at the Guangzhou Academy of Fine Arts, graduating in 1987. Throughout the period of rapid economic growth in China during the 1990s, he made a series of works under the rubric of what he termed "social construction." Using bricks, he built temporary architectural forms that often surrounded, confined, or merged with his body. His involvement in the Guangzhou-based group Big Tail Elephant Working Group (formed in 1990) was instrumental in shaping his responses to and interventions in the urban development of Southern China. Since moving to New York in 2002, Lin has expanded his scope to work with both local and international communities, from college students in Norway to families in China and farmers in Thailand. For Documenta 12 (2007) in Kassel, Germany, Lin erected a freestanding wall featuring a small hole, through which he ran a rope. He staged a tug-of-war pitting local residents against visitors from abroad, interrogating the social function of monuments and the public's role in determining their meaning. During his 2011 residency at Kadist Art Foundation in San Francisco, Lin organized a series of performances involving Chinese immigrants across the city, exploring how identity is renegotiated when people navigate through new environments. Lin currently teaches in the School of Experimental Art at the Central Academy of Fine Arts, Beijing.
Wong Ping (b. 1984, lives and works in Hong Kong)
Repressed obsessions and unfulfilled desires, emasculation and submission before sexual and political dominance, lust and slippery morals. These are themes that run through the strange and intimate stories in Wong Ping's animated videos. Skirting the line between shock and humor, Wong relates his observations of society through invented anecdotes that allow glimpses into the deepest—and often shameful—traits of human nature. For instance, a dating-app-facilitated encounter between a religious woman and an atheist man is the scenario for Who's the Daddy (2017), and Jungle of Desire (2015) tells a story of an impotent man who becomes embroiled in a plot involving his wife working as a prostitute and police extortion. Wong sometimes creates colorful installations that extend his animated worlds into three dimensions. For a 2015 solo exhibition of Jungle of Desire at Things that can happen, Hong Kong, a nonprofit art space in a working-class neighborhood at the center of the local sex industry, Wong created an actual jungle of desire and included sculptural elements such as cat figurines with swinging, penis-like arms. These images of masculinity and provocations allude to the underside of power and its abuses, and reflect tensions over gentrification and urban transformation. Wong obtained his BA in 2005 from Curtin University in Perth, Australia, and worked in broadcasting before founding Wong Ping Animation Lab in 2014. He was the recipient of the Incubator for Film and Visual Media in Asia (ifva) Gold Award in 2013, and the Best Animation and Spirit of Hong Kong awards from the Third Culture Film Festival, Hong Kong, in 2016.
Samson Young (b. 1979, lives and works in Hong Kong)
Samson Young's music, drawings, installations, radio broadcasts, and performances touch upon topics such as military conflict, identity, migration, and the political frontiers of past and present. Sound and its cultural politics are at the heart of Young's practice —he obtained a doctorate in music composition from Princeton University in 2007 before becoming involved in contemporary art. Young often investigates the relationship between violence and sound, and many of his works develop out of extensive historical research. Supported by BMW Art Journey, Young traveled to over thirty sites on five continents to produce For Whom the Bell Tolls: A Journey into the Sonic History of Conflicts (2015–), which traces the histories of bells and their usage. Taking the form of an archive of recordings, sketches, and objects, the work reveals how the bells have been implicated in territorial, religious, and cultural conflicts. For his solo exhibition in the Hong Kong Pavilion at the 2017 Venice Biennale, he used "charity singles," hit songs made in the 1980s by super-groups of recording artists to provide relief aid. Critical of the subtexts behind the singles—among them, the complicity of such gestures of "charity" with neoliberal policies and cultural imperialism—Young created drawings, objects, videos, and site-specific installations that reference these well-known songs. Young maintains a practice in classical music composition. He was a recipient of the Bloomberg Emerging Artist Award in 2007.
THE ROBERT H. N. HO FAMILY FOUNDATION CHINESE ART INITIATIVE
Launched in 2013, The Robert H. N. Ho Family Foundation Chinese Art Initiative at the Guggenheim supports a curatorial residency, three exhibitions and publications, and commission-based acquisitions. By commissioning new works by artists born in Greater China, the program offers a platform for artistic experimentation that responds to and reflects urgent issues of our time. The most recent presentation, Tales of Our Time (2016–17), was a group exhibition of nine new works by five artists, an artist duo, and an artist collective. The exhibition explored and challenged the notion of place against the backdrop of increasing tension between the global and local. It included a robot-operated installation of monumental scale, a public tea gathering in an indoor garden-like setting, immersive video works, and more. The first exhibition, Wang Jianwei: Time Temple (2014–15), featured a sculptural installation, paintings, a film, and a performance by Wang Jianwei, one of China's leading conceptual artists. All works created through the initiative will form The Robert H. N. Ho Family Foundation Collection at the Guggenheim.
THE ROBERT H. N. HO FAMILY FOUNDATION
Established in Hong Kong in 2005 by Robert Hung Ngai Ho as a private philanthropic organization, The Robert H. N. Ho Family Foundation works to foster appreciation of Chinese arts and culture to advance global learning; and to cultivate a deeper understanding of Buddhism in the context of contemporary life. The Foundation supports efforts that make Chinese arts approachable and relevant to audiences worldwide. It also supports the creation of new works, exhibitions, and publications that offer original perspectives and improve the quality and accessibility of scholarship on Chinese art.
ABOUT THE SOLOMON R. GUGGENHEIM FOUNDATION
Founded in 1937, the Solomon R. Guggenheim Foundation is dedicated to promoting the understanding and appreciation of art, primarily of the modern and contemporary periods, through exhibitions, education programs, research initiatives, and publications. The Guggenheim constellation of museums that began in the 1970s when the Solomon R. Guggenheim Museum, New York, was joined by the Peggy Guggenheim Collection, Venice, has since expanded to include the Guggenheim Museum Bilbao (opened 1997) and the Guggenheim Abu Dhabi (currently in development). The Guggenheim Foundation continues to forge international collaborations that celebrate contemporary art, architecture, and design within and beyond the walls of the museum, including the Guggenheim Social Practice initiative, Guggenheim UBS MAP Global Art Initiative, and The Robert H. N. Ho Family Foundation Chinese Art Initiative. More information about the Solomon R. Guggenheim Foundation can be found at guggenheim.org.
VISITOR INFORMATION
Admission: Adults $25, students/seniors (65+) $18, members and children under 12 free. The Guggenheim's free app, available with admission or by download to personal devices, offers an enhanced visitor experience. The app features content on special exhibitions as well as access to more than 1,600 works in the Guggenheim's permanent collection. Additionally, information about the museum's landmark building is available in English, French, German, Italian, and Spanish. Verbal Description guides for select exhibitions are also included for visitors who are blind or have low vision. The Guggenheim app is supported by Bloomberg Philanthropies.
Museum Hours: Sun–Wed, 10 am–5:45 pm; Fri, 10 am–5:45 pm; Sat, 10 am–7:45 pm; closed Thurs. On Saturdays, beginning at 5:45 pm, the museum hosts Pay What You Wish. For general information, call 212 423 3500 or visit the museum online at: guggenheim.org or guggenheim.org/social