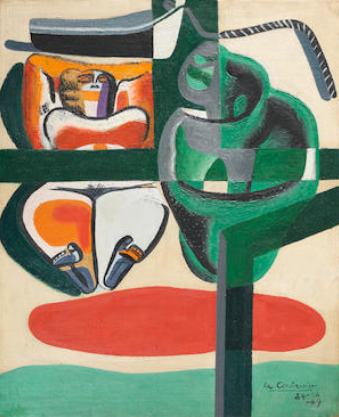 Courtesy Bonhams
A fresh-to-the-market painting by Le Corbusier, Baigneuse, Barque et Coquillage, (painted between 1934-47), will be offered at Bonhams Impressionist & Modern Art sale on 1 March 2018 in London. Purchased directly from the artist's estate, this is the first time that the work will appear at auction, having featured in several international exhibitions as one of the keystone works by Le Corbusier. The painting is estimated of £1.4-1.8 million. 
 
Born in 1887 in Switzerland, Le Corbusier is considered one of the most influential and creative figures of the 20th century. Le Corbusier was the definition of a multidisciplinary artist who shaped a striking vision in both his buildings and paintings that remain relevant to this day. In 1918, Le Corbusier collaborated with Amédée Ozenfant to write the manifesto, Après le Cubisme, which offered an alternative to what the two artists saw as the increasingly decorative forms of synthetic cubism, the dominant style in Paris practiced by artists such as Picasso and Braque. From this manifesto, Le Corbusier developed Purism, an expression of clear, architectural lines and design that would be used across his architectural and artistic practice. 
Le Corbusier's alternative vision was further shaped by an overarching focus on the theme of Arcadia – a utopia grounded in the ancient ideal of the synthesis between man and nature. Painted from 1934 to 1947, Baigneuse, Barque et Coquillage is a seminal expression of Le Corbusier's Arcadian ideal and his incorporation of organic, sensual subjects that reform his clean lines of Purism. The design is further informed by Leonardo da Vinci's Vitruvian Man – the divine proportion in art – that underlies the painting's composition whereby the cruciform line divides the balance between the female nude and shell in the painting. 
Bonhams Head of Modern & Impressionist Art, India Phillips said: "Le Corbusier is without doubt one of the towering figures of the 20th century and it is a great honour to offer his work for sale. Executed over several years, something unique to this artist, Baigneuse, Barque et Coquillage highlights Le Corbusier's ability to transition between architecture, classicism and avant-garde ideas. He was truly ahead of his time."