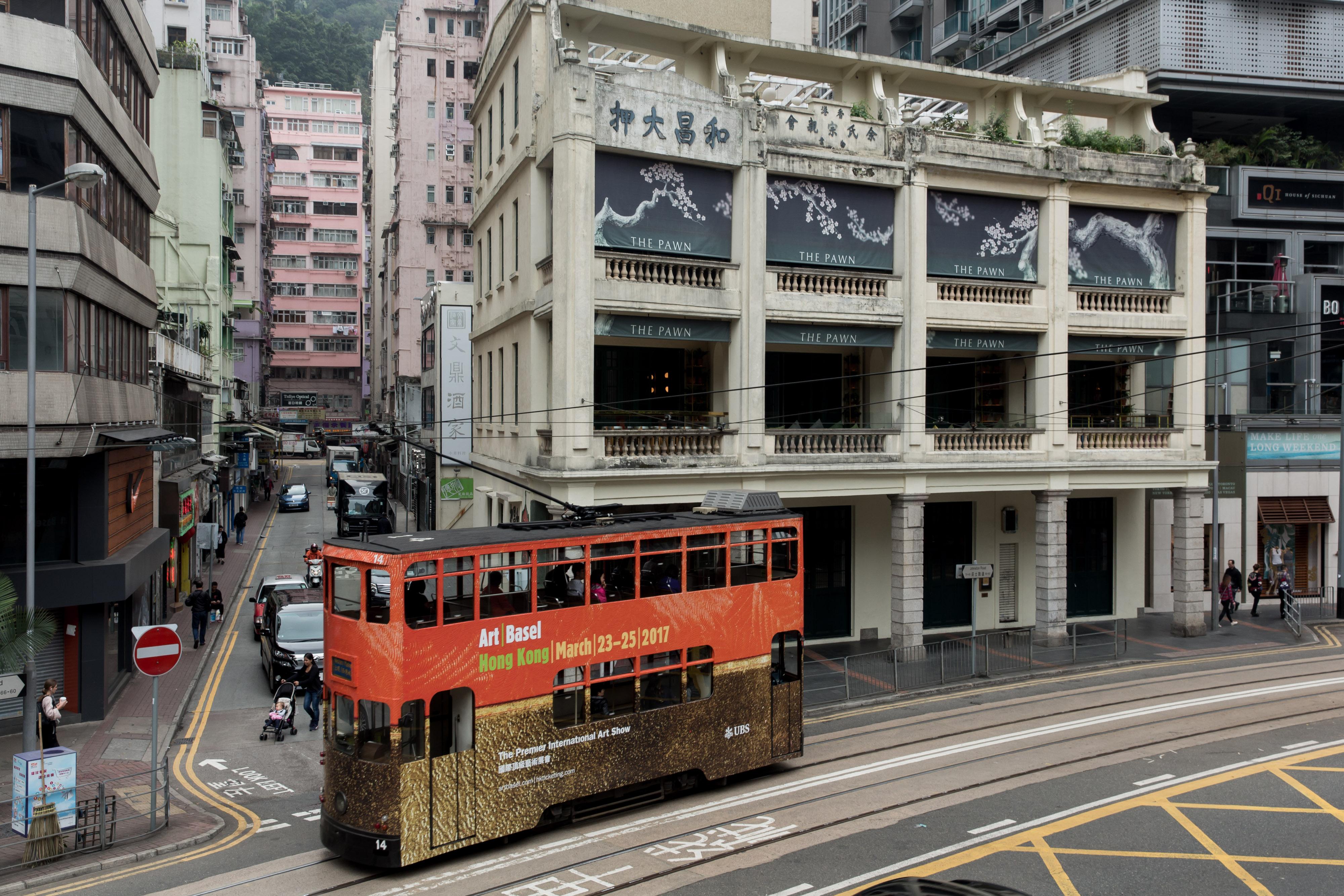 © Art Basel
Kabinett to feature 30 specially curated presentations
Following its debut in Asia last year, Art Basel's Kabinett sector will return to the Hong Kong show featuring 30 concisely curated projects. Hosted within the Galleries sector booths, projects this year will encompass strong conceptual solo presentations by both established and emerging artists including: artist duo Alfredo & Isabel Aquilizan, Chant Avedissian, Teresita Fernández, Katsura Funakoshi, Apostolos Georgiou, Federico Herrero, Hon Chi Fun, Kim Kulim, Kim Yong-Ik, Jeff Koons, Frog King (Kwok Mang-ho), Wifredo Lam, Liang Shuo, Fausto Melotti, Mihai Olos, Yoko Ono, Gabriel Orozco, Peng Wei, Mark Ryden, Andres Serrano, Song Dong, Rebekka Steiger, Mircea Suciu, Kishio Suga, Frank Walter, Tom Wesselmann, Harumi Yamaguchi, Yang Jiechang, Yu Cheng-Ta and Yu Hong. Art Basel, whose Lead Partner is UBS, takes place at the Hong Kong Convention and Exhibition Centre (HKCEC) from Thursday, March 29 to Saturday, March 31, 2018.
Kabinett will showcase a diverse range of media this year, including painting, calligraphy, photography, performance, sculpture and virtual reality art. The 2018 edition of Kabinett in Hong Kong will see a strong selection of presentations by artists from Asia. From important Modern works to entirely new pieces making their debut at the show, this year's edition aims to open up new perspectives through thoughtful presentations of outstanding artworks.
Important artists from Hong Kong will be highlighted in Kabinett this year. Ben Brown Fine Arts will feature work by Hon Chi Fun (b. 1922), one of Hong Kong's most established artists, focusing on his paintings from the 1970s and 1980s. The presentation will explore an essential period in Hon's practice that marked a drastic change in his painting vocabulary when he began to synthesize Eastern philosophies and Western visual language. 10 Chancery Lane Gallery will restage 'Frog King Calligraphy Shop' (1992), an iconic work by Hong Kong conceptual and performance artist Frog King (Kwok Mangho) (b. 1947).
Artists that capture the ethos and accomplishments of Modern art from East Asia will feature prominently in Kabinett. Kukje Gallery / Tina Kim Gallery's presentation will focus on delineating the three key periods of Korean artist Kim Yong-Ik (b. 1947) whose artistic career spans across four decades: his 'Plane Object' series of fabric works from the 1970s, his geometric compositions from the 1980s and his dot paintings from the 1990s. Arario Gallery will present three significant works that are indicative of the Korean avantgarde spirit by Kim Kulim (b. 1936). Tomio Koyama Gallery will feature Japanese artist Kishio Suga's (b. 1944) envelope drawings from the 1990s, highlighting the artist's exploration of the spatial and material possibilities of paper. This is the first time the series will be exhibited outside Japan.
Presentations of several prominent mid-career artists will be another significant element of this year's Kabinett. STPI's booth with Brisbane-based Filipino artist duo Alfredo & Isabel Aquilizan (b. 1962, b. 1965 respectively) will bring together print, installation, paper sculpture and found objects to evoke themes of migration and dislocation. Chinese artist Song Dong (b. 1966) will create a space filled with various types of old windows, addressing the concept of watching and being watched at Pace Gallery. Extending from its Galleries presentation of Chinese artist Yu Hong (b. 1966), Long March Space's Kabinett will present a virtual reality project that provides intimate insight into the artist's life. Ink Studio will feature works by Chinese artist Yang Jiechang (b. 1956). Combining Yang's work from the 1980s alongside his seminal series 'One Hundred Layers of Ink', the presentation will revisit the artist's abstract visual language. At Nanzuka, Japanese artist Harumi Yamaguchi (b. 1936) will reflect on the significance of the women's liberation movement in postwar Japan through her iconic portrait photographs and air brush works.
Rarely seen mid-career works by Cuban artist Wifredo Lam (b. 1902, d. 1982) will be presented by Galerie Gmurzynska. An exhibition of landscape paintings by Antiguan artist Frank Walter (b. 1926, d. 2009) will be on display at Ingleby Gallery, while Mazzoleni's Kabinett will feature sculptures by Italian artist Fausto Melotti (b. 1901, d. 1986), exploring emptiness and infinity through the use of a diverse range of materials, including copper, aluminum, bronze and brass.
Galerie Lelong & Co.'s Kabinett will provide an opportunity to see 'Mirror Image (for Hong Kong)' (2018) by Yoko Ono (b. 1933), a work originally presented at Palazzo Mora during the 57th Venice Biennale. Enshrining a small room with an array of antique and contemporary mirrors, the artist will instruct visitors to interact with the work, providing a space for reflection and contemplation. Galeria Plan B's presentation for Kabinett will center around ceramic objects, wood sculptures and a painting by Romanian artist Mihai Olos (b. 1940, d. 2015), whose practice typically blends traditional structures with contemporary architectural visions.
Gb agency will unveil a series of seemingly absurd and clownish paintings by Greek artist Apostolos Georgiou (b. 1952) exploring the challenges of trying to escape the anxieties of living, loneliness, pain and abandonment. Sabrina Amrani will dedicate its entire booth to Chant Avedissian (b. 1951), an Egyptian artist of Armenian roots. Featuring abstract and geometric works, the presentation will re-examine his artistic career, notably his use of motifs and icons as well as patterns and designs that reflect the essence of Egypt's culture and identity. A new series of paintings by Andres Serrano (b. 1950) at Galerie Nathalie Obadia will examine the identities of five subjects dressed in traditional Chinese wedding costumes, exploring the themes of marriage, love and relationships, while 'Working Tables' (2010) by Gabriel Orozco (b. 1962) will be on view at kurimanzutto. An installation of graphite relief panels from American artist Teresita Fernández's (b. 1968) most recent series 'Rise and Fall' will be presented at Lehmann Maupin.
A younger generation of artists from Asia and Europe will also be highlighted in the Kabinett sector. Tina Keng Gallery will dedicate its presentation to Chinese artist Peng Wei's (b. 1974) landscape paintings, which integrate classical texts and contemporary concepts in the form of albums and scrolls. While historical art is a primary concern for the artist, Peng Wei strives to find an equilibrium between the classical and the contemporary, producing work that bridges the past and the present. Taiwanese artist Yu Cheng-Ta (b. 1983) will transform Chi-Wen Gallery's booth into a sari-sari store based on his 18-month film project in Manila, while Romanian artist Mircea Suciu (b. 1978) will create new paintings for Zeno X Gallery, offering a wider outlook on human fear and existential problems.
For the full gallery list and further details on the artists featured in Kabinett, please visit artbasel.com/hongkong/kabinett.