A curated selection of items recently sold at auction. We think this month's objects would fit together nicely in the den of an esteemed gentleman, or a decadent modern mancave.
January 2019
A Toast to Record-Breakers
The Macallan 1926, 60 Year-Old, bottle hand-painted by artist Michael Dillon, £1.2 million ($1,530,484)
Christie's, London
November 28-29, 2018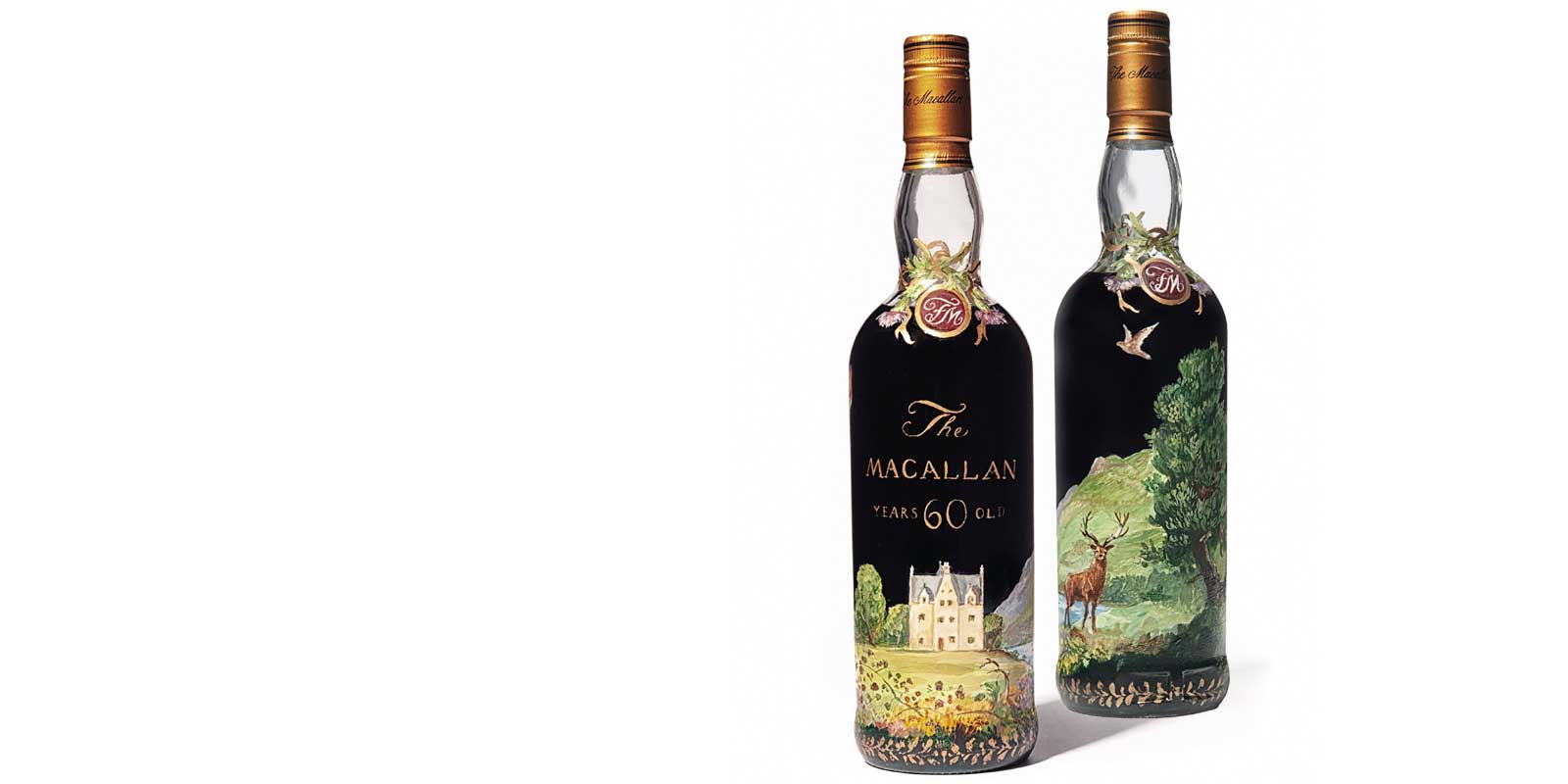 January 2019
Watching an auction record break never gets old, but what happened at Christie's London in late November was extraordinary. It marked the third time in less than a year that the auction record for a single bottle of whisky turned over. All three victors came from the same Macallan cask, number 263, and all three sold for more than $1 million in U.S. dollars.
The mad run began at Bonhams Hong Kong in May, when one of the twelve bottles of Macallan 1926 60 Year-Old decorated with a label by artist Peter Blake sold for HK $7,962,500, a price that's just above seven figures in US dollars. Its performance evidently encouraged other owners to consign. Bonhams broke the world auction record for a single bottle of whisky again on October 3 in Edinburgh, Scotland with the fifth of twelve bottles of Macallan 1926 60 Year-Old to feature a label by Valerio Adami. It commanded £848,750, which translates to more than a million U.S. dollars. About a week later, Sotheby's New York sold a Blake-label bottle for $843,200—a healthy sum, but not a record. The bottle Christie's sold after Thanksgiving fetched the U.S. equivalent of $1.5 million, decisively claiming the record for itself.
"Whisky is the spirit of the moment," says Tim Triptree, Christie's International Director of Wine. He credits "a combination of factors" driving the demand for the Macallan 1926 60 Year-Old: "Rarity, popularity, and the intrinsic quality of the property. Whisky is special."
This particular Macallan whisky is extra-special. Bottled in 1986, it's inevitably described as a "holy grail" among single-cask limited editions. It's fair to assume that the distillers at Macallan in 1926 did not deliberately set out to create a 60 year-old spirit. They probably would have found the notion hard to grasp, as it would require them to monitor a single cask for decades and place their faith in distillers who hadn't been born yet. Also, it takes more than time to make a 60 year-old whisky worthy of million-dollar bids. Few are fit to continue aging in-cask for that long, and it takes a string of master distillers to nurture the ones that can go the distance. A 60 year-old is a rare beast, and always will be.
Cask 263 yielded 40 bottles, including the 24 for which Blake and Adami each designed a dozen labels. The Christie's bottle was a one-off sold through the famed London emporium Fortnum & Mason in 1999 and decorated with images of Easter Elchies House, the circa 1700 structure at the heart of the Macallan estate in Speyside, Scotland.
The three record-setting bottles have something else in common beyond a shared brand and cask: Asian bidders won them. Martin Green, a whisky specialist at Bonhams, says, "Certainly, Asian buyers have always been in the market. There's been more and more interest, and education on the subject has expanded and is expanding. More are coming to Scotland than they did 20 years ago."
It's unclear how long the latest record will last, but demand for elite whiskies will only grow. Unlike wine, which continues to age while stored in a cellar, bottled whisky remains stable. As long as its owner keeps it well and disasters don't intervene, the spirit will taste like it did when the distiller declared it ready to leave the cask.
Photo courtesy of Christie's
Bonhams
Julien's Auctions
Phillips