Jewelry and Wearable Art Sold at Auction
September 2018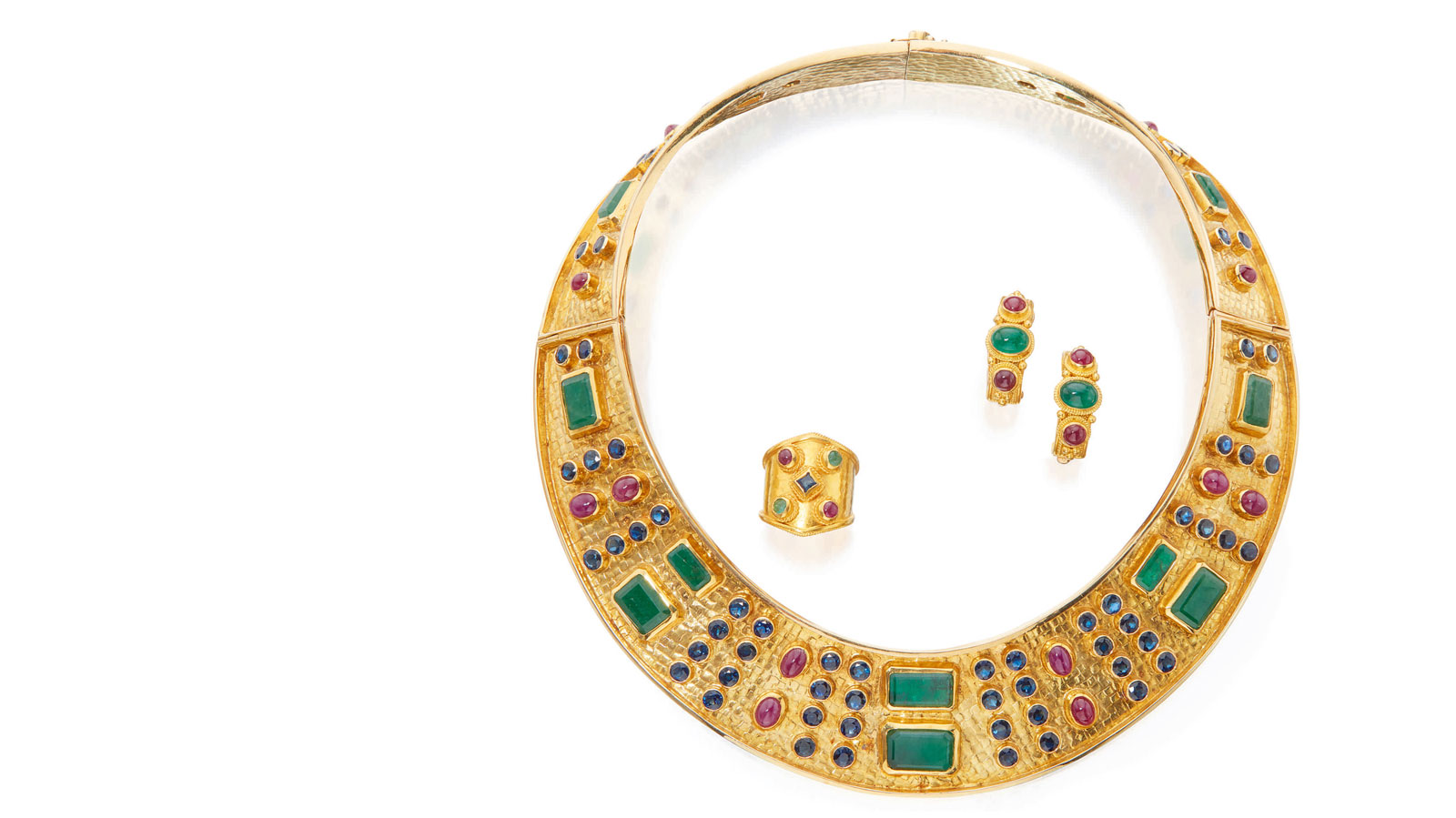 Jewelry and Wearable Art Sold at Auction
The ancient world of Greek design comes to life in this suite of Byzantine-inspired gold and gem-set jewelry by Ilias Lalaounis. The 18k gold suite includes a bold, rigid bib collar, a pair of matching hoop earclips and a wide band. The suite was sold for $16,250, more than double the high estimate.
The warm color of 18k gold is a perfect backdrop for the rich colored gemstones, each set within its own raised collar. The textured background is created by hand hammering the gold to achieve this ancient look. The many angled planes add even more warmth to the metal. The collar is set with round sapphires, rectangular-cut emeralds, and cabochon rubies, alternating in sections across the surface. The hoop earrings are set with rubies and emeralds while the band is set with a square-cut sapphire and cabochon rubies and emeralds.
The choice of red, green and blue gems gives this suite universal appeal as well as the facility to complement nearly any type of clothing. The design is both striking yet tailored, since the gems are set in strictly ordered rows, and placed within the formal constraints of the bezels that hold them securely in place.
Lalaounis was a fourth generation jeweler, born in Athens where he lived and worked throughout his long life. He sought to bring traditional and ancient Greek jewelry techniques and motifs into the modern era. He successfully did this by taking inspiration from the past—Classical, Hellenistic and Mycenaean art and architecture–and interpreting it for the modern woman. He lived and worked in an atmosphere of Greece's historic past, with a shop at the foot of the Acropolis. Inspiration was everywhere, but it was his ability to adopt, transmute, and breathe new life into the designs from the past that resulted in a unique collection of wearable jewelry.
Gold's remarkable ability to withstand virtually every form of degradation and remain untarnished creates a singular link to the past. Objects made of gold emerge in all their shining beauty after being in the earth for centuries. Gold's malleability is both its blessing and its curse. It can be pounded, drawn, molded, and bent into any form the human imagination can conjure up, but that same ability makes it vulnerable to being melted down, and re-formed. In that process, history is often lost. Lalaounis' jewels give us a modern connection to the historic significance of the jewels of antiquity.
Lalaounis passed along the traditions of his business to his four daughters, the fifth generation to continue the family's work. The breadth and depth of his work can be seen at the eponymous museum he founded in 1993. There, visitors can view more than 4000 pieces of jewelry and small sculpture created during his 60 years as an active goldsmith.
Photo courtesy of Sotheby's
Skinner
Bonhams
Tourmaline and diamond brooch