Jewelry and Wearable Art Sold at Auction

March 2019
Celebrating St. Patrick's Day, and every other day of the year, here are some green stones that delight us with the wide range of tones, cut, and degrees of transparency from absolutely clear to totally opaque and everything in between.
Look to the East
Jadeite earrings, $505,138,
Jadeite pendant, Lot #1723, $63,780
Sotheby's Hong Kong
October 3, 2018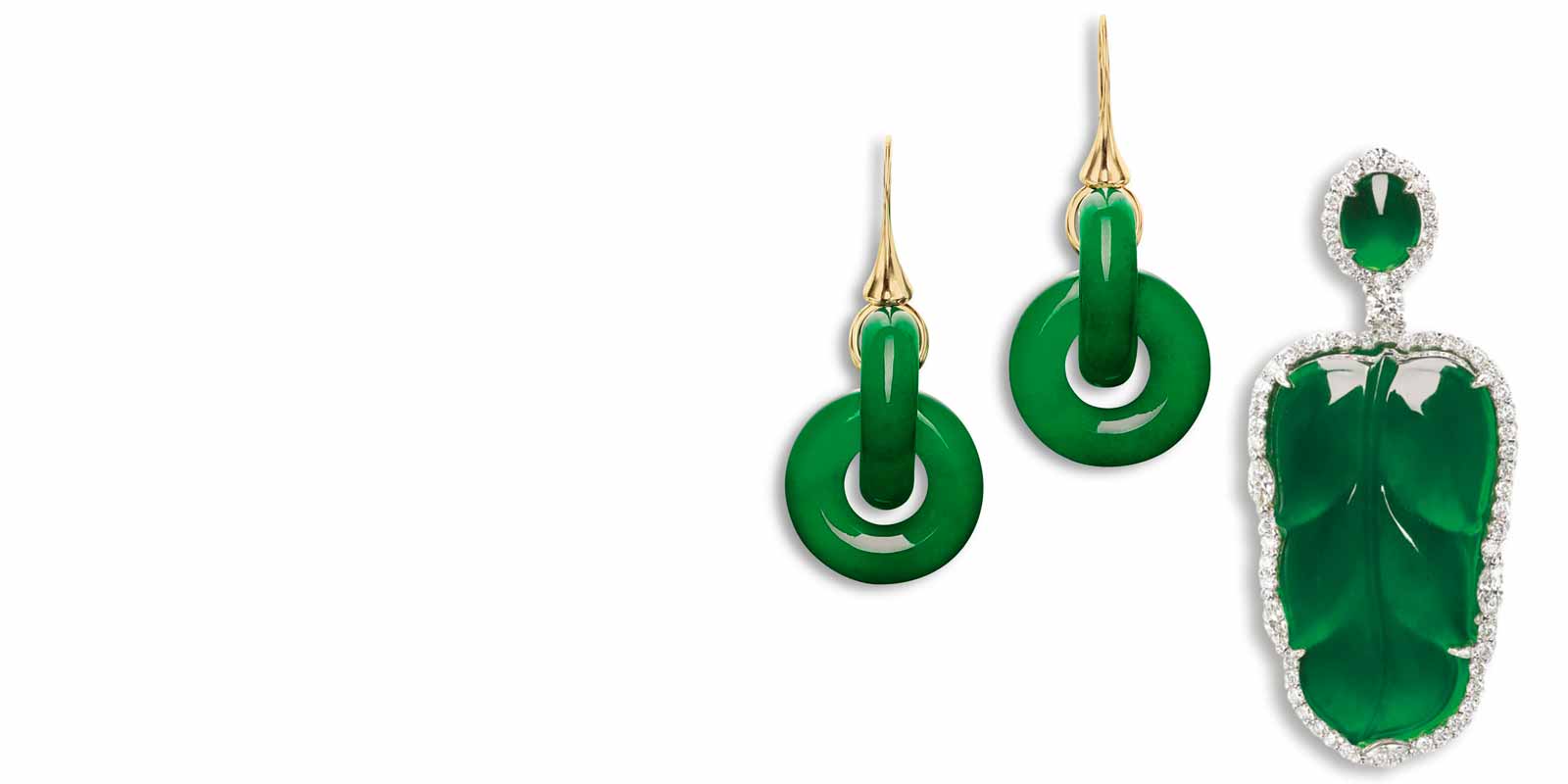 Compare these two fine jadeite lots from a recent sale in Hong Kong. The pair of simple double-loop jadeite earrings offers the essence of this green gemstone. Jadeite has an appeal in the Asian market, especially to Chinese customers, whose culture has a deep connection with the stone and appreciation of its subtle qualities. Jadeite, like diamonds and sapphires, occurs in a wide range of colors depending on the minerals present when it is formed. Apple green jade with the rich translucence seen here ranks highest in appreciation and consequently in price. This pair of earrings is remarkable for the intensity of the color and the translucency, clearly on display in the smoothly polished surface. There are no carvings or facets to hide any flaws. You are looking into the very heart of the mineral.
The jadeite pendant is carved in the form of a leaf, and set in a frame of diamonds. While this pendant offers a generously sized piece of jadeite, and very rich green color, the carving interferes with the ability of the viewer to peer deep within. However, the leaf is a symbol of immortality, longevity and healing, making it a potent image. Although very beautiful, and perhaps more appealing to the western eye, this piece brought a little more than a tenth the value of the double loop earrings.
Courtesy of Sotheby's.
Sotheby's
Sotheby's