Jewelry and Wearable Art Sold at Auction
July 2018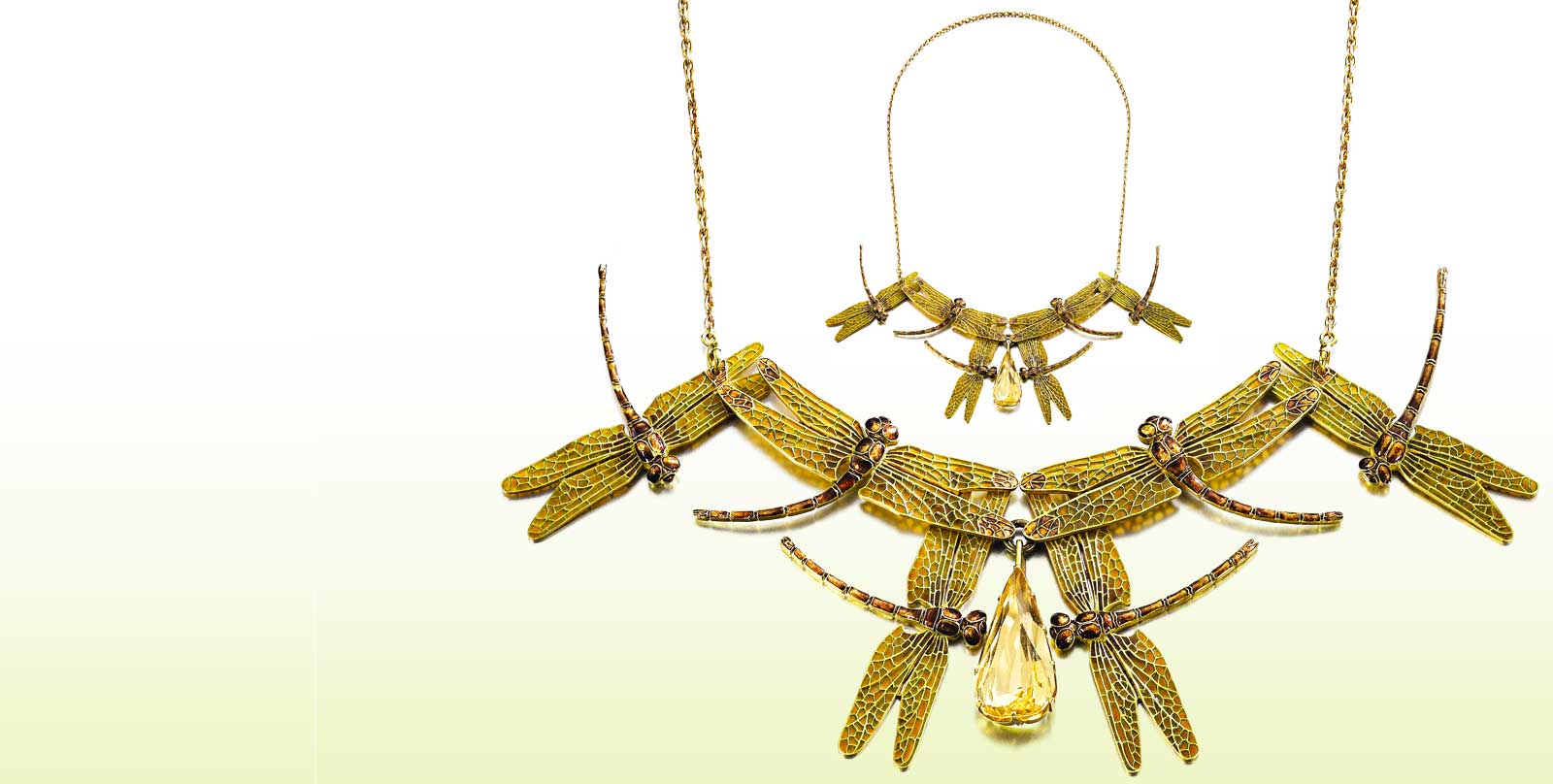 Jewelry and Wearable Art Sold at Auction
This turn of the 20th century necklace and comb combination by René Lalique embodies several aesthetic periods and ideas, its worth emanating from the design and make of the jewel, rather than the intrinsic value of its materials. Brown enamel dragonflies make up the central motif and comprise the main body of the work, flitting around a large pear-shaped citrine drop. Each dragonfly sports wings of plique-a-jour enamel, all of it suspended from a fine gold chain. The necklace was accompanied by a comb fitting, allowing the work to be worn as a hairpiece.
René Lalique was one of the iconic masters of the Art Nouveau period, capturing the fascination with winged creatures that often morphed into the female form typical of the period. In this piece, the citrine drop stands in for the female body, attracting the attention of the dragonflies.
Because jewelry of this period is fragile by nature, it needs special handling. The impeccable provenance of this piece undoubtedly contributed to its survival in fine condition. According to the catalogue, "This jewel was purchased in 1904 directly from René Lalique by the grandfather of the current owner as a present to his wife for the birth of their son."
This was during the prime years of Lalique's output. Born in France in 1860, he began his jewelry career in the 1880s. He was inspired in part by the plants and animals from the countryside where he grew up. Later, Lalique was caught up in the explosion of interest in Japonisme, which can clearly be seen in this necklace. When the arts of Japan were first seen in Europe in the mid-1800s, they were received like a hurricane that blew away the cobwebs of old design thinking.
Japonisme, with its delicate flowing lines, offered designers a clear break from the rigidity of the Victorian and Edwardian periods, and influenced much of Western culture. Included in this influence was the brief flowering of Art Nouveau, which swept over Europe and America a few decades later, roughly 1895-1910. Masses of jewels were created that depicted insects in anatomically correct detail, often combined with female nudes with flowing locks of hair. Some of the key design motifs were repeated so often by the jewelers of the period that the consuming public soon grew tired of them. Eventually Lalique, who was a master at enameling, a form of glass, moved onto working with glass itself.
Photo courtesy of Sotheby's
Sotheby's
Doyle Auctions
Christie's