Jewelry and Wearable Art Sold at Auction
August 2018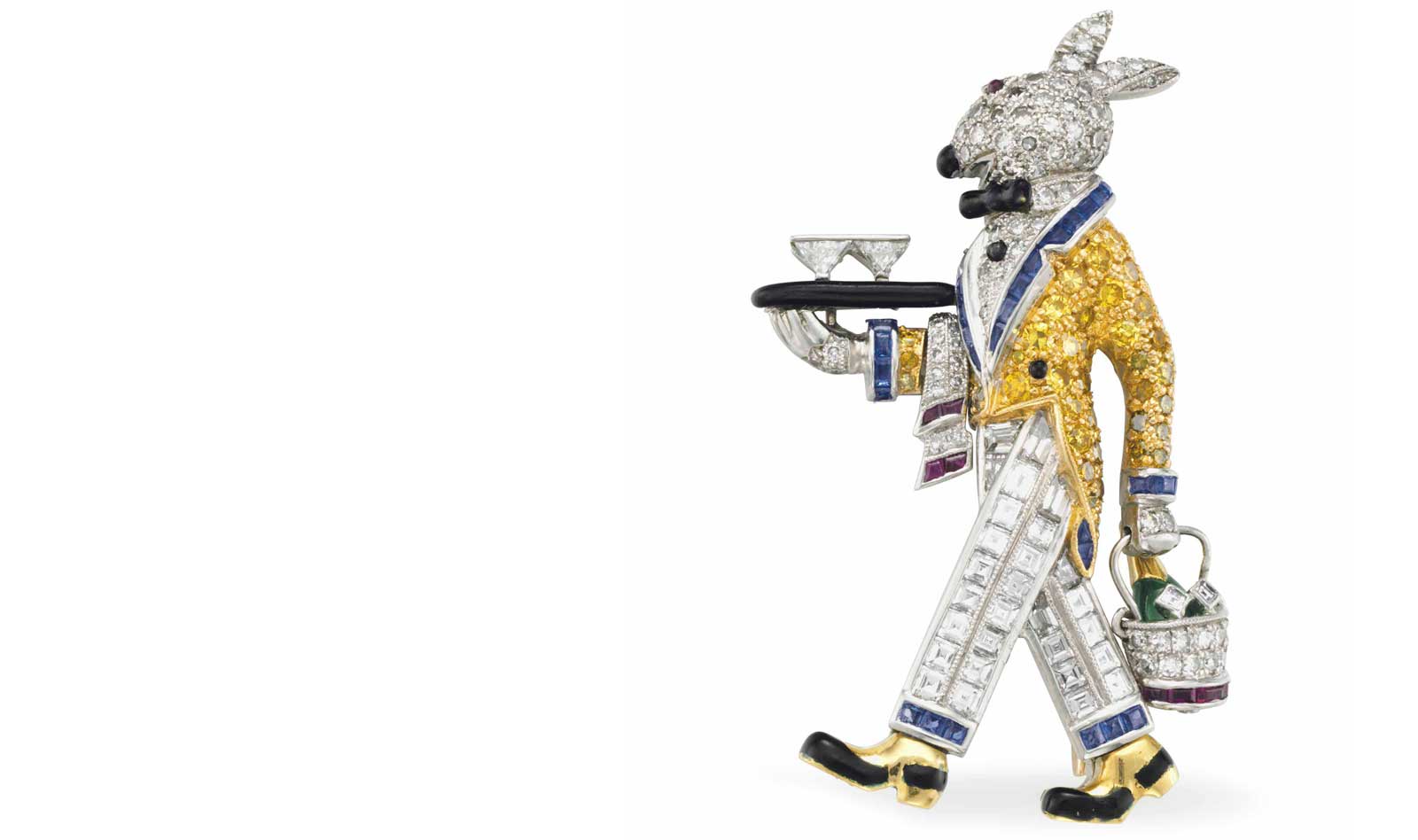 Jewelry and Wearable Art Sold at Auction
Jewelry doesn't have to be serious to be well-designed, well-crafted and made of precious materials. Raymond Yard's rabbit brooches certainly fit those categories. This exquisite and elegant bunny is one of a series of brooches depicting the furry-eared animal serving various types of alcoholic drinks, often carrying an ice bucket, serving towel over his arm, and impeccably dressed in a tuxedo. The head, right up to the pointy ears, features pavé-set diamonds. The lapels and cuffs are framed in calibré-cut sapphires while the jacket is made of yellow diamonds. His trousers are set with crisp rows of square cut diamonds. A green enamel champagne bottle nestles in the diamond and ruby-set bucket, articulated to allow the bucket to swing from its handle. Mounted in platinum and gold, the brooch stands just 1-7/8" high, making the detail all the more remarkable. This piece doubled its pre-sale estimate, an indication of how much Raymond Yard's unique style and fine make are still appreciated nearly a century after his work first appeared in the marketplace.
Other brooches in the rabbit-waiter series feature pants set with emeralds and all-white diamond jackets, all of them wearing proper shoes. Yard began the rabbit waiter series in 1928 and continued through the early 1930s, during the prohibition of serving any kind of alcoholic drinks. Perhaps it offered a wink to the prodigious amount of alcohol that was actually served during the era since the law simply pushed drinkers underground, into speakeasies and often into the arms of the criminal underworld.
Raymond Yard began his jewelry career at Marcus & Co., working his way up and learning the trade from some of the finest craftsmen of the era. Yard opened his own business in New York in 1922, enjoying the patronage of some of the wealthiest people of the day, including John D. Rockefeller, Jr.
While Yard is known for classic brooches that echoed the themes of his era, particularly the Art Deco style, his whimsical brooches are among his most recognizable designs. Another iconic series are his "house" brooches, jeweled replicas of his clients' actual homes. Working from photographs, he depicted the homes of some of high society's most prominent figures, including that of fashion icon C.Z. Guest.
Photo Courtesy of Christie's
Sotheby's
Christie's
Christie's