A curated selection of items recently sold at auction. Pull up a chair and linger over four exceptional pieces of tableware guaranteed to enliven your next dinner party.
February 2019
Nothing Succeeds Like Excess
A pair of Meissen monteiths from the Swan service, $212,500
Sotheby's New York
January 18, 2019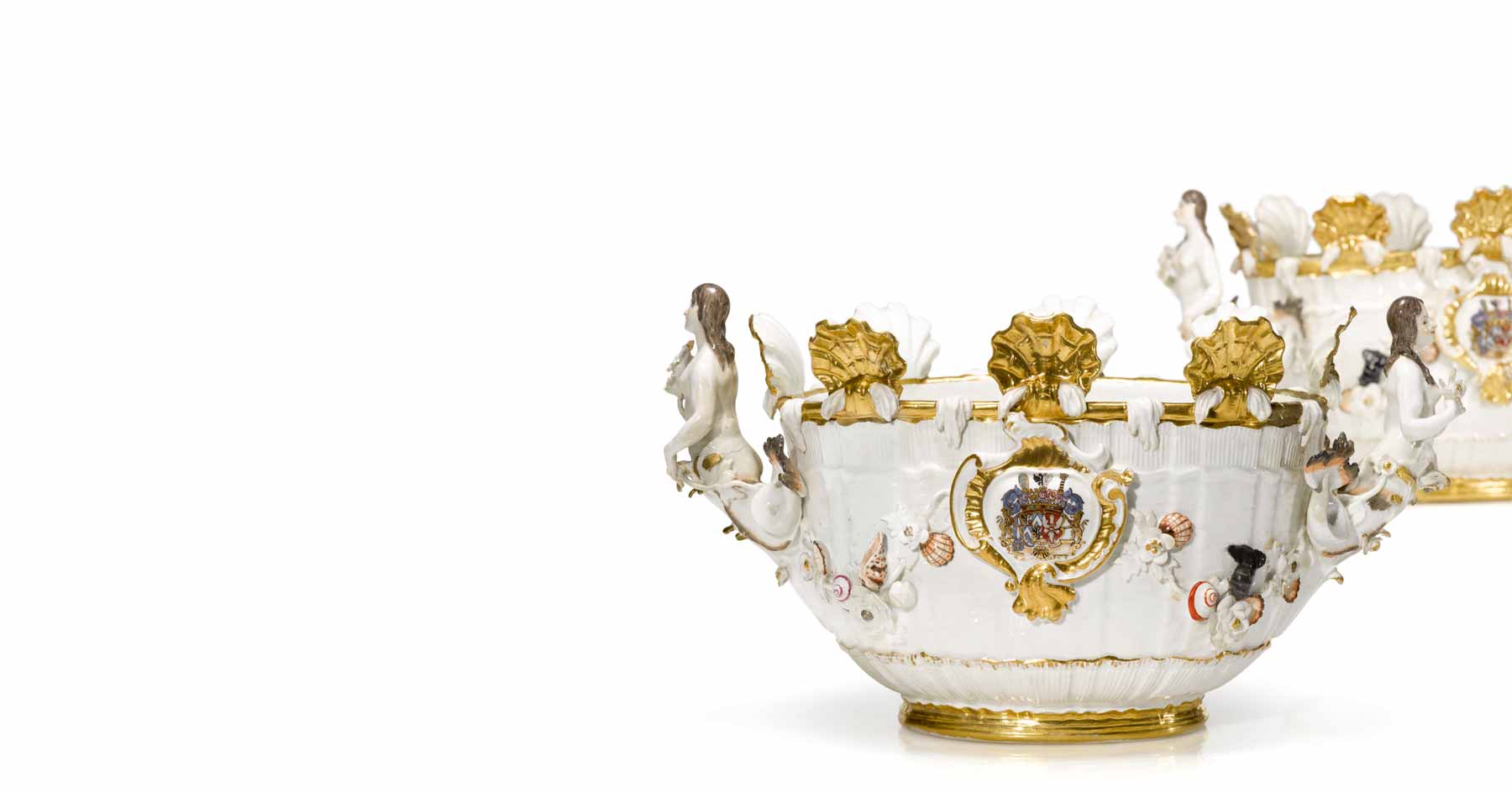 A curated selection of items recently sold at auction. Pull up a chair and linger over four exceptional pieces of tableware guaranteed to enliven your next dinner party.
When you look at a pair of monteiths from Meissen's Swan service, a legendary 18th century collection of porcelain tableware, you understand why inviting guests over for dinner earned the name "entertaining." Decorated with figures of comely maidens, gilded shells, flowers, and plenty of gilt, the fanciful ceramics are more entertaining than a pair of bowls meant for cooling and rinsing wine glasses have a right to be. (The notches visible between the gilded shells along the rims of the bowls are stem rests.) The monteiths sold for $212,500 against an estimate of $150,000 to $250,000 in Sotheby's auction of property that once belonged to the late Nelson and Happy Rockefeller. It was the most prominent example from Meissen's Swan service in the auction, which included 16 pieces in 14 lots that collectively commanded $735,000 against a total estimate of $439,000 to $691,000. (The auction's grand total was $3.3 million.)
Commissioned by Count Heinrich von Brühl in the 1730s and designed by Johann Joachim Kaendler, creator of Meissen's spectacular porcelain animal sculptures, the Swan service contained more than 2,200 pieces, fashioned over several years, and could serve up to 100 guests. The sprawling collection of tableware did much more than feed hordes of dignitaries in one sitting. Commissioning a ridiculously elaborate custom service from Meissen in the 1730s wasn't far off from commissioning a one-off Bugatti or a Patek Philippe pocket watch with dozens of complications. It was an extra-extravagant status symbol that only the most powerful, wealthy, and connected could obtain. Count Brühl, who served as prime minister to King Augustus III, was the probably the only person aside from the king who could do it. "It's probably the most celebrated service that Meissen made, and the best known," says Christina Prescott-Walker, director of the Asian art and decorative arts divisions for Sotheby's New York. "It's the first and only service they made that had a three-dimensional, sculptural quality. It's large in scale, and made for impressing figures at court. It's a significant work of European art. It transcends just being a dinner service. People who collect Meissen want an example from the Swan service, and some collect just the Swan service."
The original service descended in the count's family, with pieces entering the market here and there over the centuries. World War II reduced its mighty numbers by half, but tales of Red Army troops tossing plates in the air for target practice might be embellished. The Rockefellers assembled their Swan service collection piece by piece, buying at auction and from dealers during the middle of the previous century. Fellow collectors follow the same path, picking up a plate here and a confectionery dish there as they reach the market. The Rockefeller auction offered a relative abundance of the scarce, coveted 18th century porcelain. "It's a very large group from the Swan service to come up at one time," Prescott-Walker says, noting she'd handled ceramics for ten years and was "pretty sure 16 pieces have not come up" over that time. Seeing one or two Swan items per year at auction is more typical. "You can expect to wait. They don't come up frequently," she says.
The Rockefellers put their Swan service pieces to work, though they stopped short of chilling wine glasses in their monteiths. "I think they used them to decorate the table and used a reproduction service to eat off of," Prescott-Walker says. (Meissen continues to make and sell replicas of certain pieces from the Swan service.) "They brought them out to use as serving pieces, as table centerpieces. They were not displayed in cabinets in the pantry. They were used. They're in such good condition, it's hard to believe they weren't decoratively displayed."
Photo courtesy of Sotheby's
Christie's
Skinner
Skinner Inc.